Context
Recently, a Agartala-Akhaura rail link project connecting Northeast India with Bangladesh was virtually inaugurated.
About Agartala-Akhaura rail link project
The Agartala-Akhaura project will cut down the travel time between Agartala and Kolkata too, from 31 hours to 10 hours.
The project is expected to boost tourism, trade, and people-to-people exchanges between the two countries.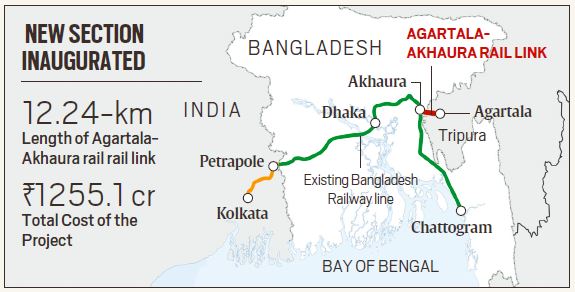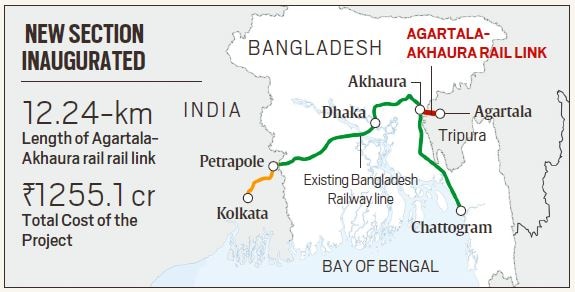 What is the project?
In the 12.24-km Agartala-Akhaura railway line, 5.46 kilometres lie on the Indian side in Tripura, and 6.78 km in the Akhaura upa-zilla in Brahmanbaria district of Bangladesh.
The train will start from Agartala and move to Nischintapur, on the Indian-Bangladesh border, where the immigration checks will be held.
The first station on the Bangladesh side will be Gangasagar.
The trial run of a goods train was held on the route on Monday.
Why is the project important to Tripura?
For land-locked Tripura, any connectivity project is of great practical significance.
The project was crucial for connectivity in the NE region and would make Tripura the gateway for tourism.
This day will go down in golden letters in the history of Indo-Bangla relationship.
Tripura is going to be the gateway for tourism and transport between India and Bangladesh.
Due to the Agartala-Akhaura railway project, the distance between Agartala and Kolkata will be effectively reduced from 1600 km to 500 km.
However, connectivity with Bangladesh also holds emotional significance.
Tripura shares an 856-km international border with Bangladesh, the second highest after West Bengal.
The North Eastern state is surrounded by the country on all three sides except Assam on the fourth.
During the 1971 Indo-Pakistan war and the creation of Bangladesh, Tripura, a state which then had only 14 lakh people, sheltered nearly 15 lakh East Pakistani refugees.
It ran at least 8 major muktijoddha (liberation warrior) training camps.
With the new connectivity project, people on both sides can now hope for closer and smoother ties.
What other trains run between India and Bangladesh?
The latest train service is part of an ongoing effort to boost connectivity between India and Bangladesh over the past few years.
Three trains, the Bandhan Express, the Maitree Express and the Mitali Express, run between West Bengal and Bangladesh.
The Bandhan Express reboots an old rail link between Kolkata and Khulna, the third-largest city of Bangladesh.
Until the 1965 war between India and Pakistan, this route was served by the Barisal Express.
The Bandhan uses the Petrapole-Benapole border crossing.
The Maitree Express between Kolkata and Dhaka Cantonment started in April 2008.
The Mitali Express, announced by PM Modi during his visit to Dhaka in March 2021, connects Siliguri in North Bengal with the Bangladesh capital.
Source: IE
---
Visit Abhiyan PEDIA (One of the Most Followed / Recommended) for UPSC Revisions: Click Here
---
IAS Abhiyan is now on Telegram: Click on the Below link to Join our Channels to stay Updated 
IAS Abhiyan Official: Click Here to Join

For UPSC Mains Value Edition (Facts, Quotes, Best Practices, Case Studies): Click Here to Join