Context
The Union Finance Minister has launched Amrit Dharohar Scheme in the Union Budget 2023-24. 
About Amrit Dharohar Scheme
Amrit Dharohar is a scheme that will be implemented over the next three years to encourage optimal use of wetlands, and enhance bio-diversity, carbon stock, eco-tourism opportunities and income generation for local communities.

Amrit Dharohar will emphasise on the importance of wetlands and their preservation, with an outlook that is inclusive of local communities as caretakers of the ecosystem.

The scheme aims to achieve sustainable ecosystem development with the help of local communities.

It falls under 'Green Growth', one of the seven priorities of the budget.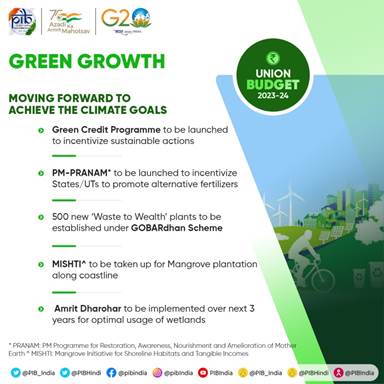 Why does this matter?
The government had previously identified the importance of wetland ecosystems, with Prime Minister saying in Man ki Baat, ""Now the total number of Ramsar sites in our country has increased to 75. Whereas, before 2014, there were only 26…"

Ramsar sites are wetlands of international importance that have been designated under the criteria of the Ramsar Convention on Wetlands (1971) for containing representative, rare or unique wetland types or for their importance in conserving biological diversity.

These sites sustain a diverse variety of flora and fauna, from endangered aquatic life to migratory birds.

India's 75 Ramsar sites are spread across the country, covering 1326678 hectares.

As many as 49 new sites have been added to the list since 2019, with 19 being added in 2022.
Source: IE
---
Visit Abhiyan PEDIA (One of the Most Followed / Recommended) for UPSC Revisions: Click Here
---
IAS Abhiyan is now on Telegram: Click on the Below link to Join our Channels to stay Updated 
IAS Abhiyan Official: Click Here to Join

For UPSC Mains Value Edition (Facts, Quotes, Best Practices, Case Studies): Click Here to Join