Context
The Union Budget 2023-23 has launched Bhartiya Prakritik Kheti Bio-Input Resource Centres.
About Bhartiya Prakritik Kheti Bio-Input Resource Centres
To further facilitate the adoption of "natural farming," 10,000 Bio-Input Resource Centres will be set-up, creating a national-level distributed micro-fertiliser and pesticide manufacturing network.

This will impact over 1 crore farmers over the next three years.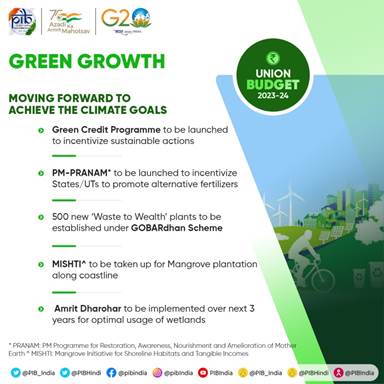 Why do these matter?
Chemical fertilisers revolutionised agriculture when they were introduced, more than half a century ago.

However, they also pose multiple risks that are increasingly being understood by scientists.

They are known to be a major source of water pollution – impacting both groundwater and rivers, ponds and lakes.

Eutrophication caused by excessive use of chemical fertilisers is a death knell for fishes and other aquatic life, often covering lakes and ponds with a thick layer of algae and reducing the oxygen content in the water.

Over a long period of time, they can also harm the soil, causing acidification, and hence have an impact on the land's productivity.

Lastly, studies have found a link between the excessive use of chemical fertilisers and incidence of cancer among farmers.

The challenge for today's scientists and policy makers is to slowly wean the agricultural economy of chemical fertilisers while maintaining the high yields that they provide.
Source: IE
---
Visit Abhiyan PEDIA (One of the Most Followed / Recommended) for UPSC Revisions: Click Here
---
IAS Abhiyan is now on Telegram: Click on the Below link to Join our Channels to stay Updated 
IAS Abhiyan Official: Click Here to Join

For UPSC Mains Value Edition (Facts, Quotes, Best Practices, Case Studies): Click Here to Join