Context
Recently, the Supreme Court reserved its judgment on the challenge to the central government's Electoral Bonds Scheme.
Electoral Bonds and Electoral Trusts
Electoral Bonds (EB) Scheme was introduced in 2018.
Electoral Trusts (ET) Scheme, was introduced in 2013.

Any company registered under Section 25 of the Companies Act, 1956, can form an electoral trust.
Under Section 17CA of the Income-tax Act, 1961, any citizen of India, a company registered in India, or a firm or Hindu Undivided Family or association of persons living in India, can donate to an electoral trust.
The electoral trusts have to apply for renewal every three financial years.
They must donate 95% of contributions received in a financial year to political parties registered under the Representation of the People Act, 1951.
The contributors' PAN (in case of a resident) or passport number (in case of an NRI) is required at the time of making contributions.
The electoral trusts route is transparent on contributors and beneficiaries.
Where there is only one contributor and one beneficiary of a particular trust, the public can know for sure who is funding whom.

Both schemes were meant to facilitate donations to political parties by corporates and individuals.
But while the EB scheme seeks to ensure anonymity for the donor, the electoral trusts under the previous scheme were required to submit to the Election Commission of India a report on contributions from individuals and companies, and their donations to parties every year.
Electoral bonds, on the other hand, are exempt from disclosure requirements.
Parties inform the ECI of the aggregate donations received through EBs, but give no details of the donors, which they are required to do in case of donations in cash or by cheque or bank transactions over Rs.20,000 each.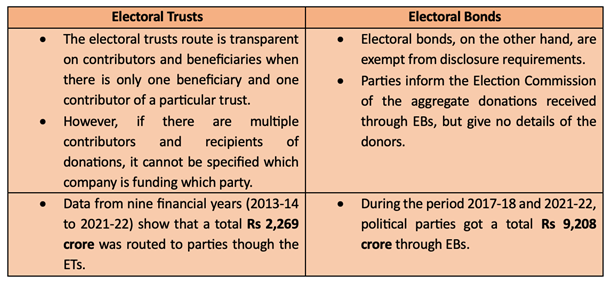 Source: IE
---
Visit Abhiyan PEDIA (One of the Most Followed / Recommended) for UPSC Revisions: Click Here
---
IAS Abhiyan is now on Telegram: Click on the Below link to Join our Channels to stay Updated 
IAS Abhiyan Official: Click Here to Join

For UPSC Mains Value Edition (Facts, Quotes, Best Practices, Case Studies): Click Here to Join