Context
Recently India is ranked 102 of 117 countries in the Global Hunger Index 2019

Among the BRICS grouping, India is ranked the worst, with China at 25 and a score of just 6.5. Within South Asia, too, India is behind every other country. Sri Lanka, Nepal, Bangladesh and Pakistan (in that order) are all ahead of India.

Some of the other countries ahead of India are Saudi Arabia (rank 34), Venezuela (rank 65, even as its score has doubled from just over 8 to over 16, because of the socio-economic and political crisis), Lesotho (rank 79), Burkina Faso (rank 88), and North Korea (rank 92).

In stark contrast to India, which has the world's largest democracy and one of the biggest economies, most of the countries below India on the GHI — Afghanistan, Haiti or Yemen etc — are either poorly governed or war-torn or ravaged by natural calamities.
About Global Hunger Index
Global Hunger Index (GHI) is a tool designed to comprehensively measure and track hunger at global, regional, and national levels.

GHI scores are calculated each year to assess progress and setbacks in combating hunger.

The GHI is designed to raise awareness and understanding of the struggle against hunger, provide a way to compare levels of hunger between countries and regions, and call attention to those areas of the world where hunger levels are highest and where the need for additional efforts to eliminate hunger is greatest.

A low score gets a country a higher ranking and implies a better performance. The reason for mapping hunger is to ensure that the world achieves "Zero Hunger by 2030" — one of the Sustainable Development Goals laid out by the United Nations. It is for this reason that GHI scores are not calculated for certain high-income countries.

Seventeen countries, including Belarus, Ukraine, Turkey, Cuba and Kuwait, shared the top rank with GHI scores of less than five

The report, prepared jointly by Irish aid agency Concern Worldwide and German organisation Welt Hunger Hilfe termed the level of hunger in India serious
How GHI Scores are complicated
GHI scores are calculated using a three-step process that draws on available data from various sources to capture the multidimensional nature of hunger
First Step – For each country, values are determined for four indicators:
UNDERNOURISHMENT: the share of the population that is undernourished (that is, whose caloric intake is insufficient);
CHILD WASTING: the share of children under the age of five who are wasted (that is, who have low weight for their height, reflecting acute undernutrition);
CHILD STUNTING: the share of children under the age of five who are stunted (that is, who have low height for their age, reflecting chronic undernutrition); and
CHILD MORTALITY: the mortality rate of children under the age of five (in part, a reflection of the fatal mix of inadequate nutrition and unhealthy environments
Second Step – Each of the four component indicators is given a standardized score on a 100-point scale based on the highest observed level for the indicator on a global scale in recent decades.
Third Step – Standardized scores are aggregated to calculate the GHI score for each country, with each of the three dimensions (inadequate food supply; child mortality; and child undernutrition, which is composed equally of child stunting and child wasting) given equal weight
This three-step process results in GHI scores on a 100-point GHI Severity Scale, where 0 is the best score (no hunger) and 100 is the worst. The GHI Severity Scale shows the severity of hunger – from low to extremely alarming – associated with the range of possible GHI scores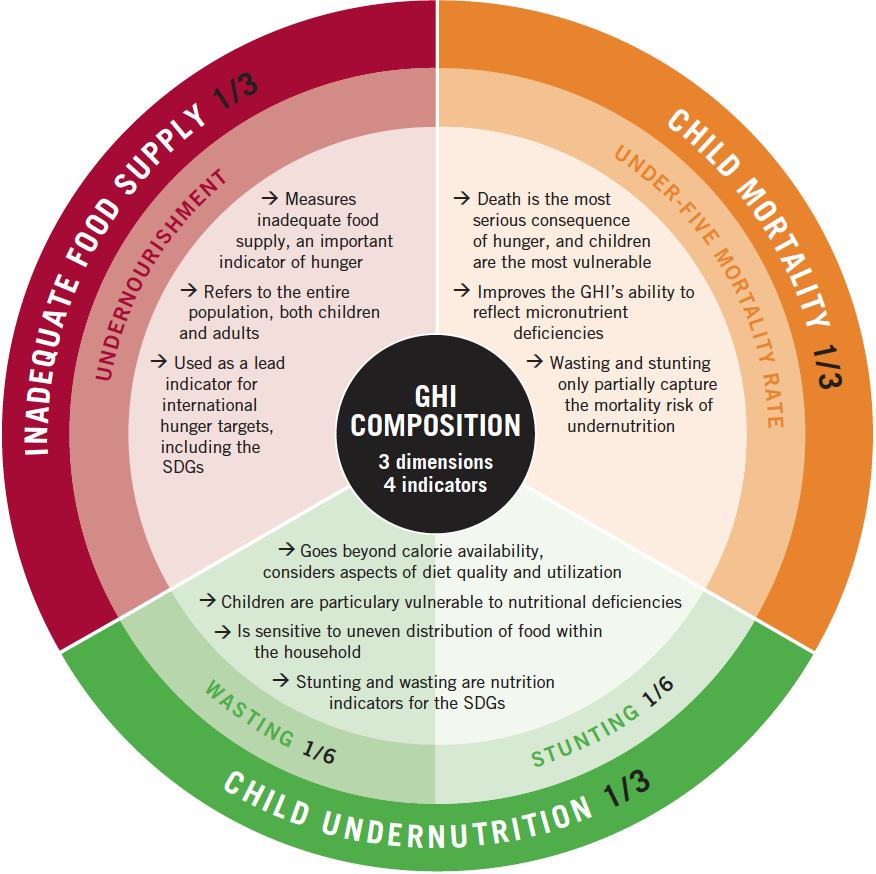 Why is India ranked so low on GHI?
With an overall score of 30.3, India finds itself sandwiched between Niger (score 30.2, rank 101) and Sierra Leone (score 30.4, rank 103). In 2000, India's score was 38.8 and its hunger level was in the "alarming" category. Since then, India has steadily improved on most counts to reduce its score and is now slotted in the "serious" category.

But the pace of India's improvement has been relatively slow. So, even though India has improved its score, many others have done more and that explains why despite achieving relatively fast economic growth since 2000, India has not been able to make commensurate strides in reducing hunger.
What are the reasons for which India's improvements have been slow?
Child Wasting, that is, children with low weight for their height — where India has worsened. The percentage of children under the age of 5 years suffering from wasting has gone up from 16.5 in 2010 to 20.8 now. Wasting is indicative of acute undernutrition and India is the worst among all countries on this parameter.

"India's child wasting rate is extremely high at 20.8 percent — the highest wasting rate of any country in this report for which data or estimates were available. Its child stunting rate, 37.9 percent, is also categorized as very high in terms of its public health significance… In India, just 9.6 percent of all children between 6 and 23 months of age are fed a minimum acceptable diet," states the report.

"In 2014 the prime minister instituted the 'Clean India' campaign to end open defecation and ensure that all households had latrines. Even with new latrine construction, however, population's health and consequently children's growth and development as their ability to absorb nutrients is compromised," it said.

India has shown improvement in other indicators such as the under-5 mortality rate, prevalence of stunting among children and prevalence of undernourishment owing to inadequate food.
Source: Indian Express Explained