Context
On July 18, elected MLAs and MPs across the country will vote to elect India's 15th President.
About Election of President
Under Article 62(1) of the Constitution, "an election to fill a vacancy caused by the expiration of the term of office of President shall be completed before the expiration of the term".
The President is elected by an electoral college consisting of MPs of both Houses of Parliament and MLAs of the states and Delhi and Puducherry.
Nominated members of Rajya Sabha, Lok Sabha and the Assemblies, and members of state Legislative Councils, are not part of the electoral college.
The votes are weighted, their value determined by the population of each state as per Census 1971.
The value of each MLA's vote varies from a high of 208 in Uttar Pradesh to a low of 7 in Sikkim.
The process demands that the 776 MPs (543 in Lok Sabha, 233 in Rajya Sabha) should contribute the same total of votes as the MLAs.

Thus, the value of each MP's vote is 5.43 lakh divided by 776, rounded off to 700.

The combined electoral pool from the Assemblies and Parliament adds up to 10.86 lakh.
The Electoral College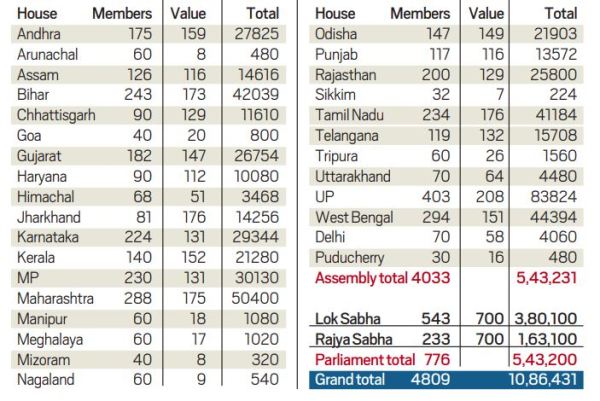 How keenly contested have previous elections been?
1952: The first election was a no-contest.
1957: Prasad was fielded for a second by the Congress. It was again a no-contest.
Reference:
https://indianexpress.com/article/explained/explained-how-the-president-is-elected-7961048/
---
Visit Abhiyan PEDIA (One of the Most Followed / Recommended) for UPSC Revisions: Click Here
---
IAS Abhiyan is now on Telegram: Click on the Below link to Join our Channels to stay Updated 
IAS Abhiyan Official: Click Here to Join

For UPSC Mains Value Edition (Facts, Quotes, Best Practices, Case Studies): Click Here to Join