India and China Relations
INDIA AND CHINA
Context
For the current Chinese leadership, the 21st century is destined to be China's alone, with India to be shown its place.
Contentious issues in India-China relations
Fifteen months after the clashes between Chinese and Indian soldiers in the Galwan Valley, India-China relations are at their lowest ebb in living memory.

Both countries have over territorial claims over land controlled by the other.

China's "all-weather" alliance with our hostile separated sibling, Pakistan, and our hospitality to the Dalai Lama

China keeps saying the border should be left to future generations to settle, knowing full well that each passing year increases China's relative economic, military and geopolitical strength vis-à-vis India, while shifting the LAC in its favour.

The People's Liberation Army has used the seemingly benign situation to repeatedly undertake "minor" military incursions, inflict small-scale military setbacks on India, take a few square kilometres of territory along the Line of Actual Control (LAC) for local tactical purposes, and then declare peace. 

Mutual disengagements are duly announced, both sides claim the crisis is over, but China establishes and fortifies its new deployment. 

Border incidents to keep Indians off balance and demonstrate to the world that India is not capable of challenging China, let alone offering security to other nations.
Before Galwan, 2020 
In October 2019 in Mahabalipuram, at their 18th meeting in nine years both the country had grandly pledged to take relations between their two countries to "greater heights".

To mark the 70th anniversary of formal diplomatic relations between the two countries, they announced they would conduct 70 joint activities, including further improving their burgeoning trade, supporting scholarly research into their ancient civilizational links, and even exchanging military delegations, in a grand show of Sino-Indian cooperation.
Multiple avenues of engagement
The two countries had indeed developed multiple avenues of engagement. From negligible levels till 1991, trade with China had grown to become one of India's largest trading relationships.

India engages with China diplomatically in the BRICS (an association of Brazil, Russia, India, China, and South Africa), as well as conducting annual summits of RIC (Russia-India-China). India is an enthusiastic partner in the Chinese-led Asian Infrastructure Investment Bank and the New Development Bank (NDB), formerly referred to as the BRICS Development Bank.
The Chinese strategy
Engaged in a tactical move to advance their positions along areas of the LAC that it covets, in order to threaten Indian positions and interdict patrols. 

Control over 900 square kilometres of area in Ladakh along the LAC. They are threatening India's construction of roads, bridges and similar infrastructure on undisputed Indian territory, a belated effort to mirror similar Chinese efforts near the LAC in Tibet.

Established a fixed presence in these areas well beyond China's own 'Claim Line', occupied the "Finger Heights" near Pangong Tso Lake.

Objective seems to be to extend Chinese troop presence to the intersection of the Galwan river and the Shyok river, which would make the Galwan Valley off bounds to India.

Constructed permanent structures in the area of their intrusion and issued statements claiming that sovereignty over the Galwan valley has "always belonged" to China.
India's options
Symbolic acts of economic retaliation, banning Chinese apps in India on grounds of data security.

Chinese companies will be barred from various lucrative opportunities in the vast Indian market, as two of them, Huawei and ZTE, have been from the ongoing trials to be picked to build India's 5G telecoms infrastructure.

India has also reimposed tighter limits on Chinese investment in projects such as railways, motorways, public-sector construction projects, and telecoms, a reversal of the openness to China.

The economic angle

India's dependence on China for its non-consumption economy remains high

Import of pharmaceuticals, and even the active ingredients to make them, automotive parts and microchips, all needed by Indian manufacturers.

Various manufacturing inputs, industrial equipment and components, and even some technological know-how come from China; eliminating them could have a seriously negative effect on India's economic growth at a time when, thanks mainly to the COVID-19 crisis, our GDP is estimated to have shrunk dramatically.
Conclusion
The range of considerations seems to leave only two strategic options for New Delhi: reconciling itself to playing second fiddle to an assertive China in the region, or seeking strength and leverage by aligning itself with a broader international coalition against Chinese ambitions.
CHINA'S YA'AN- LINZHI SECTION
Context
China is all set to begin the construction of the strategic Sichuan-Tibet Railway between Ya'an in southwest Sichuan province and Linzhi in Tibet, close to the Indian border in Arunachal Pradesh.
Key Details
The Sichuan-Tibet Railway is the second such project in Tibet after the Qinghai-Tibet Railway.

It will go through the southeast of the Qinghai-Tibet Plateau, one of the world's most geologically active areas.

The Sichuan-Tibet Railway starts from Chengdu, the capital of Sichuan province, and travels through Ya'an and enters Tibet via Qamdo, shortening the journey from Chengdu to Lhasa.

Linzhi, which is also known as Nyingchi, is located close to Arunachal Pradesh border.

China claims Arunachal Pradesh as part of southern Tibet while India contests it.

Linzhi also has an airport, one of the five built by China in the Himalayan region.
China's Stand
After the Sichuan-Tibet railway starts operation, Tibet will have more exchanges with other parts of the Chinese mainland. Strategically, China's Tibetan region will have much stronger capabilities in material transportation and logistical supplies.

The Sichuan-Tibet Railway will not only accelerate and enhance the overall economic development of the Tibet region but will play an important role in safeguarding border stability.

The construction of the Sichuan-Tibet Railway is of strategic importance that benefits the overall development of Tibet, Xiong Kunxin, an ethnic studies professor at the Tibet University in Lhasa.

Both Sichuan and Tibet are rich in resources with their unique natural landscapes, huge mineral reserves, and a wide variety of medicinal herbs.

It will also enhance person-to-person exchanges between different regions and ethnic groups, promote understanding and cultural integration.
CHINA'S HYDROPOWER EXPLOITATION
Context
Recently, Chinese hydropower company to construct the first downstream dam on the lower reaches of the Brahmaputra river, or Yarlung Zangbo as it is known in Tibet, marking a new phase in China's hydropower exploitation of the river with potential ramifications for India.
Key Details
China in 2015 operationalised its first hydropower project at Zangmu in Tibet, while three other dams at Dagu, Jiexu and Jiacha are being developed, all on the upper and middle reaches of the river.

The project "will play a significant role in realising China's goal of reaching a carbon emissions peak before 2030 and carbon neutrality in 2060".

Chinese hydropower groups have long campaigned to tap the "Great Bend", but projects have so far not taken off over concerns over the technical feasibility in the steep Yarlung Zangbo Grand Canyon.

India has expressed concerns to China over the four dams on the upper and middle reaches, though dams are not likely to impact the quantity of the Brahmaputra's flows in India greatly because they are only storing water for power generation and the Brahmaputra is not entirely dependent on upstream flows with an estimated 35% of its basin is in India.

A dam at the Great Bend, if approved, would raise fresh concerns considering its location downstream and just across the border from Arunachal Pradesh.
Back to Basics
About Brahmaputra river
The Brahmaputra called Yarlung Tsangpo in Tibet, is a trans-boundary river which flows through Tibet, India and Bangladesh.

The river originates from the Kailash ranges of Himalayas at an elevation of 5300 M.

After flowing through Tibet it enters India through Arunachal Pradesh and flows through Assam and Bangladesh before it joins Bay of Bengal.

National Waterway 2 (NW-2) is a section of the Brahmaputra River having a length of 891 km between the Bangladesh border near Dhubri and Sadiya in Assam.
CHINESE DAM PROJECTS ON BRAHMAPUTRA
Context
With India-China relations hitting its lowest point since the 1962 war, border infrastructure has come under intense scrutiny.

The construction of several dams along the Yarlung (Brahmaputra) river on the Chinese side has been a repeated cause for concern for Indian officials and the local people, whose livelihoods and security depend on the river.
Key Details
Brahmaputra:
It originates under the name of Siang or Dihang,from the Chemayungdung glacier of the Kailash range near the Mansarovar lake. It enters India west of Sadiya town in Arunachal Pradesh.
Tributaries:Dibang, Lohit, Siang, Burhi Dihing, Tista, and Dhansari.
It is a perennial riverand has several peculiar characteristics due to its geography and prevailing climatic conditions.
It is flooded twice annually.One flood is caused by the melting of the Himalayan snow in summer and the other due to the monsoon flows.
Thefrequency of these floods has increased and are devastating due to climate change and its impact on high and low flows.
These pose a concern for the population and food security in the lower riparian states of India and Bangladesh.
The river is in itself dynamic as frequent landslides and geological activity force it to change coursevery often.
| | |
| --- | --- |
| Chinese Perspective | Indian Perspective |
| 20% of the world's population and has only 7% of its water resources | 17% of the world's population and 4% of water |
| southern regions are water-rich in comparison to the water-stressed northern part | severely water-stressed |
| Blocking rivers like the Mekong and its tributaries, affecting Southeast Asian countries like Thailand, Vietnam, Laos and Cambodia. | majority of India's population reside in the Gangetic plains which enjoy water throughout the year but the southern and western regions experience harsh and dry summer and the rainfall is scarce and erratic in the eastern coast. |
| In the Himalayas, there are multiple operational dams in the Yarlung Tsangpo basin with more dams commissioned and under construction. | Ambitious north-south river-linking project has been proposed in India as well. However, it has come under criticism for potentially disturbing fragile ecosystems. |
Cause of Concern
Massive amounts of silt carried by the river would get blocked by dams leading to a fall in the quality of soil and eventual reduction in agricultural productivity.
Brahmaputra basin is one of the world's most ecologically sensitive zones and is identified as one of the world's 34 biological hotspots.
This region has several species of flora and fauna which are endemic to only this part of the world.

The Kaziranga National Park houses 35 mammalian species out of which 15 are listed as threatened in the IUCN Red List.
The river itself is home to the Gangetic river dolphin, which is listed as critically endangered.

The location of the dams also poses a risk as the Himalayas are one of the most vulnerable to earthquakes and seismic activity.
Landslides resulting from earthquakes pose a significant threat. For example, the 2015 Nepal earthquake and the resultant landslides wiped out several dams and other facilities.
Damming this perennial river would result in water security in an era of unprecedented shifting climate patterns.
The sheer size of the infrastructure projects undertaken by China and increasingly by India, poses a significant threat to the populations living downstream.

Close to a million people live in the Brahmaputra basin in India and tens of millions further downstream in Bangladesh.

This security extends beyond water, as there is the potential to significantly change the flow rate during times of standoffs and high tensions. In fact, during the 2018 Doklam border standoff between India and China, China stopped communication of water flow levels from its dams, effectively rendering India blind to floods during the standoff.
Way Forward
There are alternate solutions to solving the water crisis. Both sides must cease new constructions on the river and commit to potentially less destructive solutions. Building a decentralised network of check dams, rain-capturing lakes and using traditional means of water capture have shown effective results in restoring the ecological balance while supporting the populations of the regions in a sustainable manner.

It is in the interest of all stakeholders to neutralise this ticking water bomb.
CHINA'S THREE-CHILD POLICY
Context
In a major policy shift aimed at increasing the country's declining birth rate, China on Friday relaxed its previous two-child norm and endorsed a three-child policymooted by the ruling Communist Party. 
Population Growth
Earlier this year, after China's census data showed population growth slipping to its slowest rate since the 1950s, the country announced that it would allow three children per married couple.

This comes five years after it first relaxed its controversial one-child policy to two.

China's one-child policy had been enforced in 1980, had remained in place until 2016, when fears of a rapidly ageing population undermining economic growth forced to allow two children per married couple.

While the relaxation did result in some improvement in the proportion of young people in the country, the policy change was deemed insufficient in averting an impending demographic crisis.
One-child policy
China embarked upon its one-child policy in 1980.
Chinese authorities have long hailed the policy as a success, claiming that it helped the country avert severe food and water shortages by preventing up to 40 crore people from being born.

However, the one-child limit was also a source of discontent as the state used brutal tactics such as forced abortions and sterilisations.

It was also met with criticism and remained controversial for violating human rights, and for being unfair to poorer Chinese since the richer ones could afford to pay economic sanctions for violation of the policy.
China's rulers have been accused of enforcing reproductive limits as a tool for social control.

The supposed benefits of the policy have also been questioned.

Experts have also blamed the policy for making China's population age faster than other countries, impacting the country's growth potential.
Relaxing the one-child policy
From 2016, the Chinese government finally allowed two children per couple– a policy change that did little to arrest the rapid fall in population growth.

China's 2020 census data shows the country's rate of population growth falling rapidly despite the 2016 relaxation.

A fall of 18 per cent in one year, as per its National Bureau of Statistics.

The country's fertility rate has now dropped to 1.3, far below the replacement level of 2.1 necessary for each generation to be fully replenished.

The United Nations expects China's population to begin declining after 2030.

By 2025, the country is set to lose its 'most populous' tag to India, which in 2020 had an estimated 138 crore people, 1.5 per cent behind China.
Sceptical about the three-child policy
Relaxing limits on reproductive rights alone cannot go a long way in averting an unwanted demographic shift.
Main factors behind fewer children being born are rising costs of living, education, and supporting ageing parents.
The problem is made worse by the country's pervasive culture of long working hours.
There has also been a cultural shift during the decades in which the one-child policy remained in force, with many couples believing that one child is enough, and some expressing no interest in having children.
Conclusion
The Chinese government, however, has said that the new policy will come with "supportive measures, which will be conducive to improving our country's population structure, fulfilling the country's strategy of actively coping with an ageing population and maintaining the advantage, endowment of human resources"
CHINA'S 17+1
Context
Recently,Lithuania quit China's 17+1 cooperation forum with central and eastern Europe, by calling it "divisive", now it is 16+1.
Key Details
Lithuania no longer considers itself a 17+1 format member and does not participate in this initiative.

In recent months, Lithuania also took several steps that angered Beijing, including the blocking of Chinese investment and announcing it would open a trade office in Taiwan.

The Baltic country urged fellow EU members to pursue "a much more effective 27+1 approach and communication with China."
Back to Basics
About 17+1
The 17+1 (China and Central and Eastern Europe Countries) initiative is a China-led format founded in 2012 in Budapest with an aim to expand cooperation between Beijing and the CEE (Central and Eastern Europe) member countries, with investments and trade for the development of the CEE region.

The initiative includes twelve EU member states and five Balkan states — Albania, Bosnia and Herzegovina, Bulgaria, Croatia, Czech Republic, Estonia, Greece, Hungary, Latvia, Lithuania, Macedonia, Montenegro, Poland, Romania, Serbia, Slovakia and Slovenia.
Baltic Countries
Baltic states, the northeastern region of Europe, includes the countries of Estonia, Latvia, and Lithuania, on the eastern shores of the Baltic Sea.

The Baltic states are bounded on the west and north by the Baltic Sea, which gives the region its name, on the east by Russia, on the southeast by Belarus, and on the southwest by Poland and an exclave of Russia.

The Baltic region is not rich in natural resources. Though Estonia is an important producer of oil shale, a large share of mineral and energy resources is imported.
Balkan Countries
The geographic term is used for ten sovereign states: Albania, Bosnia and Herzegovina, Bulgaria, Croatia, Kosovo, Macedonia, Montenegro, Romania, Serbia, and Slovenia.

The region takes its name from the Balkan Mountain, and Balkan Countries are found in Southern Europe.

It is a unique territory inhabited by South Slavs who form the majority of the population in Balkan Region.

Region has a very diverse ethno-linguistic scenario. The Bulgarians, Macedonians, and Slovenes speak their own Slavic languages, while the Slavs of Serbia, Croatia, Bosnia and Herzegovina, and Montenegro all speak dialects of Serbo-Croatian.
CHINA'S STRATEGICALLY SIGNIFICANT HIGHWAY
Context
Recently, China has completed construction of a strategically significant highway through the world's deepest canyon in Tibet along the Brahmaputra river, enabling greater access to remote areas along the disputed border with Arunachal Pradesh in India.
Key Details
The highway, took seven years to complete and passes through the Grand Canyon of the Yarlung Zangbo river, as the Brahmaputra is called in Tibet.

This is the "second significant passageway" to Medog county that borders Arunachal directly connecting the Pad township in Nyingchi to Baibung in Medog county.

The highway will reduce the distance between Nyingchi city and Medog from 346 km to 180 km and will cut the travel time by eight hours. 

The construction, which began in 2014, is part of a wider infrastructure push in border areas in Tibet.

In November, China began work on a strategically important railway line — its second major rail link to Tibet after the Qinghai-Tibet railway that opened in 2006 — that will link Sichuan province with Nyingchi.

The first segment of the line within the Sichuan province, from Chengdu to Yaan, was completed in December 2018. Work on the 1,011-km section from Yaan to Nyingchi will be finished in 2030.
Civilian settlements in disputed territories
Another part of the border infrastructure push is the construction of new civilian settlements along with the expansion of existing smaller hamlets — along border areas, some of which lie in disputed territories claimed by India and Bhutan, to strengthen China's control over the land.

In 2017, the Tibet Autonomous Region (TAR) government launched a plan to build "moderately well-off villages" in border areas, under which 628 "first line and second line villages" — referring to those right on the border and others in remote areas slightly further within — would be developed in the prefectures of Ngari, Shigatse, Shannan and Nyingchi, along China's borders with India, Bhutan and Nepal.

Last year, satellite images emerged showing a new village called Pangda built 2-3 km into what Bhutan sees as its land.

Indian officials said this land has been under China's effective control since 1959 and there were military barracks there earlier.

The civilian settlements, along with the new infrastructure connectivity, are seen as aimed at bolstering China's control over the areas.
HOT SPRINGS AND GOGRA POST
Context
During the 11th round of discussions between the senior military commanders of India and China to resolve the over 11-month long standoff in eastern Ladakh, China had refused to vacate two of the four original friction points.
At two friction points, Patrolling Point 15 (PP15) in Hot Springs, and PP17A near Gogra Post, China still has a platoon-level strength each, along with vehicles.
Key Details
PP15 and PP17A were two of the four points where the soldiers were eyeball-to-eyeball.

The other points of friction at that time were PP14 in Galwan Valley and the north bank of Pangong Tso.

The maximum ingress was on the north bank of Pangong Tso, where the Chinese troops were at Finger 4, which is 8 km west of Finger 8 where India says the LAC lies.
What are PP15 and 17A?
Along the Line of Actual Control (LAC) between India in China, Indian Army has been given certain locations that its troops have to access to patrol the area under its control. These points are known as patrolling points, or PPs, and are decided by the China Study Group (CSG).

CSG was set-up in 1976, when Indira Gandhi was the prime minister, and is the apex decision-making body on China.

Barring certain areas, like Depsang Plains, these patrolling points are on the LAC, and troops access these points to assert their control over the territory.

It is an important exercise since the boundary between India and China is not yet officially demarcated.

PP15 and PP17A are two of the 65 patrolling points in Ladakh along the LAC. (Some of these 65 also have an additional Alpha PPs, which are further ahead from the original PPs. So PP17A is different from, but close to, PP17.)

PP15 is located in an area known as the Hot Springs, while PP17A is near an area called the Gogra post.
Where are these two areas?
Both of these are close to the Chang Chenmo River in the Galwan sub-sector of the LAC in eastern Ladakh.

While Hot Springs is just north of the Chang Chenmo River, Gogra Post is east of the point where the river takes a hairpin bend coming southeast from Galwan Valley and turning southwest.

The area is north of the Karakoram Range of mountains, which lies north of the Pangong Tso lake, and south east of Galwan Valley, which became a major flashpoint and a violent faceoff in June 2020 had left 20 Indian and at least four Chinese troops dead.
What is the importance of this region?
The area lies close to Kongka Pass, one of the main passes, which, according to China marks the boundary between India and China. India's claim of the international boundary lies significantly east, as it includes the entire Aksai Chin area as well.

The Western Sector of the boundary "is divided into two portions, with Kongka Pass as the dividing point" and the portion "north of Kongka Pass is the boundary between Sinkiang (now Xinjiang) and Ladakh, and the portion south of it is that between Tibet and Ladakh".

Thus, Hot Springs and Gogra Post are close to the boundary between two of the most historically disturbed provinces of China.
How significant are they for the military?
Both PP15 and PP17A are in an area where India and China largely agree on the alignment of the LAC, which comes southeast from Galwan Valley, turns down at Konga La and moves towards Ann Pass before reaching the north bank of Pangong Tso.

History notes that Hot Springs was an important post even during the 1962 conflict. In October 1962 there was a company strength at the Galwan Post, while three other posts—Hot springs, Nala Junction and Patrol Base—had strengths of a platoon.
Back to Basics
Karakoram Range
It is also known as Krishnagiriwhich is situated in the northernmost range of the Trans-Himalayan ranges.

It forms India's frontiers with Afghanistan and China.

It extends eastwards from the Pamir for about 800 km.

It is a range with lofty peaks [elevation 5,500 m and above].

Some of the peaks are more than 8,000 metre above sea level.K2 (8,611 m) [Godwin Austen or Qogir] is the second highest peak in the world and the highest peak in the Indian Union.
The Ladakh Plateau lies to the north-east of the Karakoram Range.
Galwan Valley
The valley refers to theland that sits between steep mountains that buffet the Galwan River.
Theriver has its source in Aksai Chin, on China's side of the LAC, and it flows from the east to Ladakh, where it meets the Shyok river on India's side of the LAC.
The valley isstrategically located between Ladakh in the west and Aksai Chin in the east, which is currently controlled by China as part of its Xinjiang Uyghur Autonomous Region.
Pangong Tso lake
Located in the Union Territory of Ladakh.
Situated at a height of almost 4,350mand is the world's highest saltwater lake.
Extending to almost 160km, one-third of the Pangong Lake lies in India and the other two-thirds in China.
Chang Chenmo River
A tributary of the Shyok River,part of the Indus River system.

It is at the southern edge of the disputed Aksai Chin region and north of the Pangong Lake basin.

The source of Chang Chenmo is near the Lanak Pass.
Kongka Pass
A low mountain pass over a hill that intrudes into the Chang Chenmo Valley.

It is in the disputed India-China border area in Ladakh.
INDIA AND CHINA FIVE POINT PLAN
Context
Recently, India and China have agreed on a five points planto disengage troops and reduce tensions along the Line of Actual Control (LAC), where Indian and Chinese troops have been engaged in a four and a half month long stand-off.
The move came after the talks between India's External Affairs Minister and his Chinese counterpart, on the margins of a Shanghai Cooperation Organisation (SCO) meeting in Russia.
The Five Point Plan
Both sides shouldtake guidance from Wuhan and Mahabalipuram summits on developing India-China relations, that includes not allowing differences to become disputes.
Border troopsshould continue their dialogue, quickly disengage, maintain proper distance and ease tensions.
The two sides shall abide by all the existing agreements and protocols on China-India boundary affairsand avoid any action that could escalate matters.
Continuing communications through the Special Representatives mechanism,and meetings of the Working Mechanism for Consultation and Coordination on border affairs.
Working to conclude new confidence-building measures.
Importance of Pangong Tso
Context
Therecent incidents at the Pangong Tso lake area between Indian and Chinese soldiers on the LAC involve a picturesque lake, mountains, helicopters, fighter jets, boats, eyeball-to-eyeball confrontation, fisticuffs and injuries.
Back to Basics
Line of Actual Control
The disputed boundary between India and China, also known as the Line of Actual Control (LAC), is divided into three sectors: western, middle and eastern. The countries disagree on the exact location of the LAC in various areas, so much so that India claims that the LAC is 3,488 km long while the Chinese believe it to be around 2,000 km long.

The LAC mostly passes on the land, but Pangong Tso is a unique case where it passes through the water as well. The points in the water at which the Indian claim ends and Chinese claim begins are not agreed upon mutually.

Most of the clashes between the two armies occur in the disputed portion of the lake. As things stand, 45 km-long western portion of the lake is under Indian control, while the rest is under China's control.

Eastern Ladakh forms the western sector, to the east of the Karakoram and Ladakh Ranges. It runs from the Karakoram Pass in the north — 18 kilometres from the country's highest airfield at Daulat Beg Oldie which is now connected by a road to DS — to Chumur in the south, almost bordering Himachal Pradesh. Pangong Tso lies closer to the centre of this 826 km long disputed border in eastern Ladakh.
The Pangong Tso lake
Pangong Tso lake in eastern Ladakh has often been in the news, most famously during the Doklam standoff, when a video of the scuffle between Indian and Chinese soldiers — including kicking and punching, the throwing of stones, and the use of sticks and steel rods, leading to severe injuries — on its banks went viral on August 19, 2017.

It was a visual confirmation of what had been reported about the incident that took place on that Independence Day morning.

In the Ladakhi language, Pangong means extensive concavity, and Tso is lake in Tibetan.

Pangong Tso is a long narrow, deep, endorheic (landlocked) lake situated at a height of more than 14,000 ft in the Ladakh Himalayas. The western end of Tso lies 54 km to the southeast of Leh. The 135 km-long lake sprawls over 604 sq km in the shape of a boomerang, and is 6 km wide at its broadest point.

The brackish water lake freezes over in winter, and becomes ideal for ice skating and polo. The legendary 19th century Dogra general Zorawar Singh is said to have trained his soldiers and horses on the frozen Pangong lake before invading Tibet.
Tactical significance of the lake
By itself, the lake does not have major tactical significance. But it lies in the path of the Chushul approach, one of the main approaches that China can use for an offensive into Indian-held territory.

Indian assessments show that a major Chinese offensive, if it comes, will flow across both the north and south of the lake. During the 1962 war, this was where China launched its main offensive — the Indian Army fought heroically at Rezang La, the mountain pass on the southeastern approach to Chushul valley, where the Ahir Company of 13 Kumaon led by Maj. Shaitan Singh made its last stand. This was made memorable in Chetan Anand's 1964 war film, Haqeeqat, starring Balraj Sahni and Dharmendra.
Fingers in the lake
The barren mountains on the lake's northern bank, called the Chang Chenmo, jut forward in major spurs, which the Army calls "fingers". India claims that the LAC is coterminous with Finger 8, but it physically controls area only up to Finger 4.

Chinese border posts are at Finger 8, while it believes that the LAC passes through Finger 2. Around six years ago, the Chinese had attempted a permanent construction at Finger 4 which was demolished after Indians strongly objected to it.

Chinese use light vehicles on the road to patrol up to Finger 2, which has a turning point for their vehicles.

If they are confronted and stopped by an Indian patrol in between, asking them to return, it leads to confusion, as the vehicles can't turn back.

The Indian side patrols on foot, and before the recent tensions, could go up to Finger 8.

The fracas between Indian and Chinese soldiers earlier this month happened in this general area at Finger 5, which led to a "disengagement" between the two sides.

The Chinese have now stopped the Indian soldiers moving beyond Finger 2. This is an eyeball-to-eyeball situation which is still developing.
Back to basics
India and China Relations
Background
As two ancient civilizations, India and China have had cultural and trade ties since at least the first century. The famous Silk Road allowed for economic and trade ties to develop between the two, with the transmission of Buddhism from India to China giving a further cultural dimension to the relationship. The advent of western colonialism broke this engagement which took some time to get steady.

The rise of post-colonial India and China – Jawaharlal Nehru's vision of Asian solidarity was premised on strong ties between China and India.

India and China signed the famed Panchsheel agreement in 1954 that underlined the Five Principles of Peaceful Coexistence as forming the basis of their bilateral relationship. These were the hey-days of Sino-Indian ties, with the Hindi-China Bhai-Bhai phrase a favourite slogan for the seeming camaraderie between the two states.

But that was not to last long.

In 2005, both nations agreed on Political Parameters and Guiding Principles for the Settlement of the India- China Boundary Question, broad principles to govern the parameters of any dispute settlement.

At the global level, their rhetoric has been all about cooperation and indeed the two sides have worked together on climate change, global trade negotiations, and in demanding that global financial institutions be restructured in light of the global economy's shifting centre of gravity.

The case for Sino-Indian cooperation has been built by various constituencies to offer a counterweight to US global and regional hegemony. Concerns that the US had become too powerful and unilateral, and that a unipolar US-dominated world would not be in the best interests of weaker states like India, has made the idea of Sino-Indian partnership attractive to certain sections of the Indian strategic elite. For example- India and China took strong exception to the US-led air campaign against Yugoslavia in 1999, the campaign against Saddam Hussein's regime in Iraq in 2003, Both also favour more democratic international economic regimes. They have strongly resisted efforts by the US and other developed nations to link global trade to labour and environmental standards.
Political Relations
On 1 April, 1950, India became the first non-socialist bloc country to establish diplomatic relations with the People's Republic of China. Prime Minister Nehru visited China in October 1954. While, the India-China border conflict in 1962 was a serious setback to ties, Prime Minister Rajiv Gandhi's landmark visit in 1988 began a phase of improvement in bilateral relations. In 1993, the signing of an Agreement on the Maintenance of Peace and Tranquility along the Line of Actual Control (LAC) on the India-China Border Areas.
Geographical Overview
China and India are separated by the Himalayas. China and India today share a border with Nepal and Bhutan acting as buffer states. Parts of the disputed Kashmir and Ladakh region claimed by India are claimed and administered by either Pakistan (Azad Kashmir and Gilgit and Baltistan) or by the PRC (Aksai Chin).

The Government of Pakistan on its maps shows the Aksai Chin area as mostly within China and labels the boundary "Frontier Undefined" while India holds that Aksai Chin is illegally occupied by the PRC.

China and India also dispute most of Arunachal Pradesh.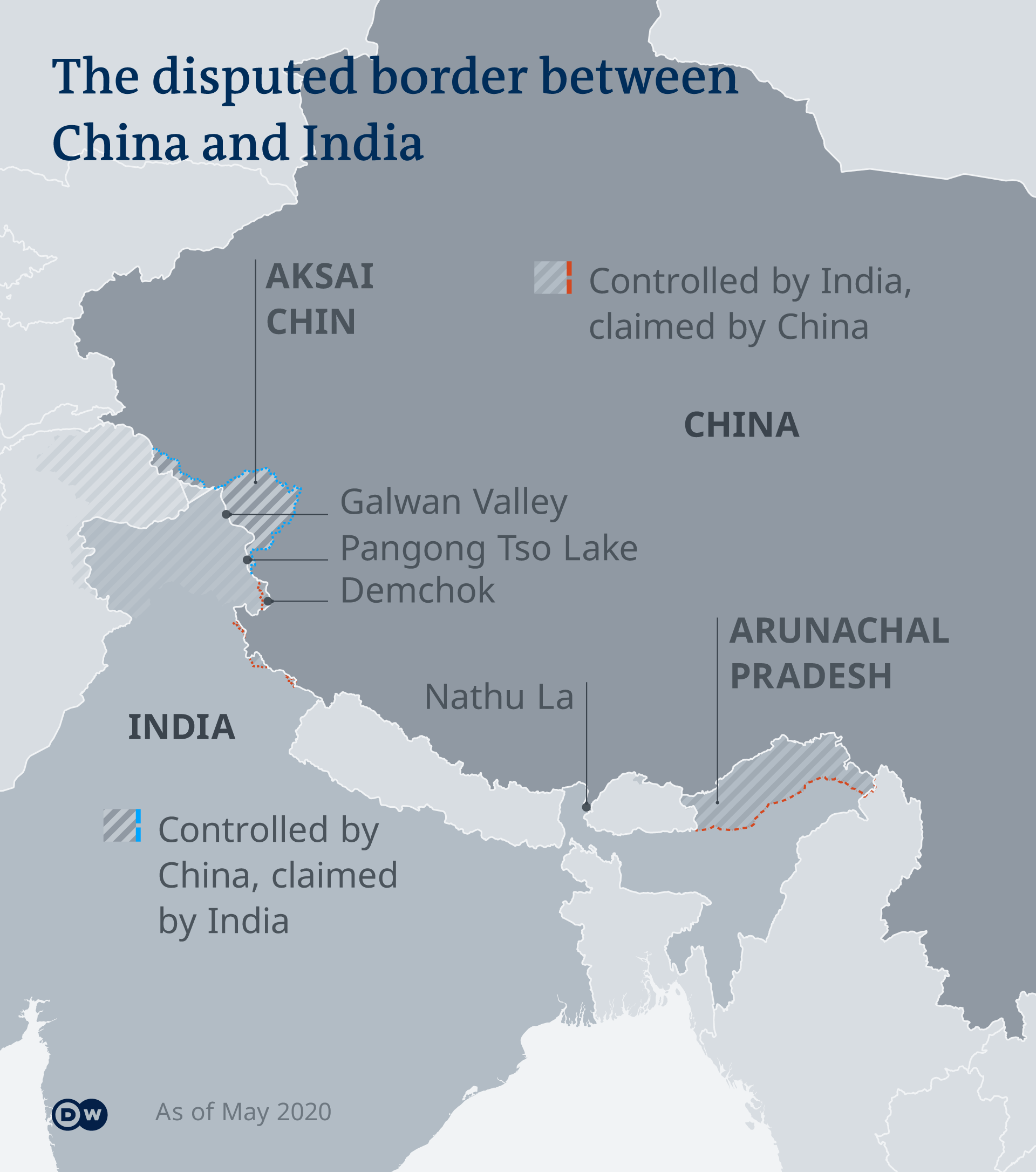 Border Dispute
Cultural and economic relations between China and India date back to ancient times.

The Silk Road not only served as a major trade route between India and China, but is also credited for facilitating the spread of Buddhism from India to East Asia.

During the 19th century, China was involved in a growing opium trade with the East India Company, which exported opium grown in India.

During World War II, both British India and Republic of China played a crucial role in halting the progress of Imperial Japan.
In 2013, the first major standoff between India and China in 26 years occurred on the remote Depsang Plains when China attempted to establish a permanent presence in the disputed territory just as India prepared to open a high altitude airfield at nearby Daulat Beg Oldi.
A more significant standoff occurred in 2017, involving China's territorial dispute with Bhutan, an Indian ally. Indian forces intervened to stop Chinese road-building in disputed territory, resulting in a brief spike in tensions. (Doklam conflict).
Earlier in 2020, as a critical Indian road to Daulat Beg Oldi, came closer to completion, Chinese forces deployed in larger numbers at the LAC, and as Indian troops matched them, standoffs occurred at four points.
One was the Galwan River Valley, an area that had witnessed fighting in 1962 but had not been a major source of friction since. To the south, by a picturesque lake called Pangong Tso, Chinese and Indian forces entered into a tussle in May. In between, near an area known as Hot Springs, two smaller buildups took place.

For India, China poses a clear and present danger. To respond to an expansive and belligerent northern neighbour, it has to reorient its conception of its security as well as deployment of its political and diplomatic resources.
Triangular Relations
The United States and Russia (previously Soviet Union) have been a consistent part of developments in Chinese and Indian relations.

As a major power, Japan has also been part of China–India relations with initiatives such as the Quadrilateral Security Dialogue. Pakistan and China share relations in an attempt to contain India, as well as drive Chinese infrastructure projects in the disputed territory of northern Kashmir.

The Middle East, Latin America, and Africa are places where both India and China engage and compete. The Middle East is important to both countries in terms of their energy security. In Africa, China and India seem most engaged across a wide variety of issues from development to peacekeeping.

In South Asia and South-East Asia, a power balance struggle between China and India is seen in triangular relations

Nepal

Nepal's geostrategic situation during periods of heightened tensions between China and India, such as during the 1962 war

The China-Nepal-India Economic Corridor (CNIEC) was proposed by China in April 2018. It is an extension of the agreed upon China-Nepal Trans-Himalayan Multi-dimensional Connectivity Network into India. While China and Nepal have shown favourable reactions towards CNIEC, India is "indifferent".

Pakistan
The longtime friendship between China and Pakistan, rooted in a time when both countries were deeply mistrustful of India, has long made New Delhi nervous.

The relationship has mainly gone one way, with China providing economic assistance and political backing to Pakistan.

Islamabad is also anxious for an alliance it can use to balance the growing economic and political clout of India.

But Pakistan also offers China a gateway to South Asia, Iran and the Arabian Sea, one of the economic beltways that President Xi Jinping has sought to build through the region.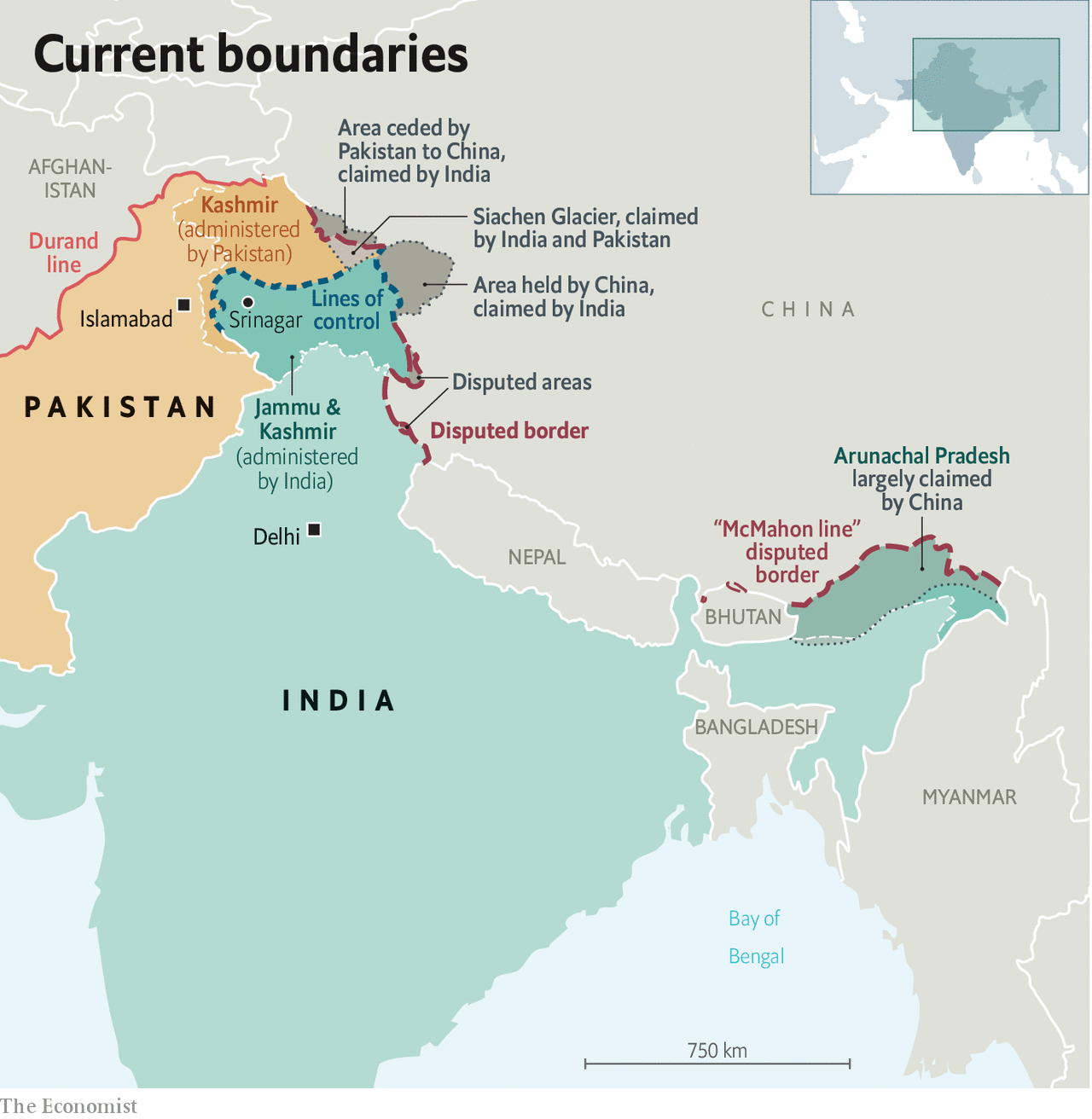 Bilateral Trade Cooperation
China is India's largest trading partner.

Two countries have shown tremendous economic growth. Change in the dynamics of the global economy has provided the opportunity to both countries to cooperate on a wider scale.

China and India are the major trading partners in the region. During the last decade, bilateral trade has increased notably. In 2014, the trade between China and India exceeded over $65 billion mark. 

Bilateral trade has expanded substantially in recent years. Nevertheless, the balance of trade still remains in China's favour. 

Though, compared to the past, the economic cooperation between the two countries has accelerated. However, there are still enormous opportunities that have not been exploited in such fields as manufacturing, construction, electricity, gas and water industries, infrastructure (such as, roads, buildings, transportation, storage and communication), hotels and tourism, financial institutions, agriculture, healthcare, education and the various training sectors.

The bilateral trade that stood at US$ 3 billion in the year 2000 grew to US$ 92.68 billion in 2019. China was India's second-largest trading partner in 2019 and emerged as the largest trading partner in the first half of FY 20-21. The bilateral trade declined by only 15% compared to a 32.46% decline in overall trade in 2020-21. China accounted for 5% of India's exports and 14 % of India's imports in 2019. This had led to a very high trade deficit of US$ 56.77 billion in 2019. 

China and India have synergies in many areas. China has wide experience and expertise in the field of the construction industry. Due to its international recognition, Chinese firms have been successful in creating an infrastructure base for many countries. India could utilize Chinese expertise in the development of its high-speed railway network, metro lines and other infrastructure facilities.

According to a survey published in ThePrint 43% Indians did not buy 'Made in China' products since Galwan clash last year.

China forms an integral part of the global supply chain, and India too is heavily dependent on Chinese imports, ranging from a variety of raw materials to critical components.

According to a response to a query in Rajya Sabha, India has the world's third-largest pharmaceutical industry for which 2/3rds of its key ingredients come from China.
Military exercises
China and India conduct a joint military exercise called 'Exercise Hand–in–Hand'
Water Sharing and Hydro Politics
A total of seven rivers that start in Tibet flow through India Indus, Satlej, Karnali (Ghaghara), Subansiri, Brahmaputra and Lohit (and its tributary Dulai).

India's formal recognition of Chinese sovereignty over Tibet constitutes the single biggest security blunder with lasting consequences for Indian territorial and river-water interests.
South China Sea issue
The South China Sea is claimed by Beijing as its sovereign territory almost in its entirety, and those claims have been buttressed by its construction of artificial islands heavily fortified with missiles, runways and weapon systems. However, several ASEAN member countries, including Vietnam, the Philippines and Brunei, have counterclaims, which have been rebuffed by Beijing, ignoring all maritime norms.

China opposes India's oil exploration in the SCS (which has been undertaken at Vietnam's request) by calling the area of exploration a 'disputed' area and asserting 'Chinese sovereignty over the SCS in the historical context.

It has been continuously expressing its reservation in this regard in the last few years, and sometimes quite belligerently at that. India has taken note of the Chinese reservation and has carefully gone ahead in signing a few agreements with Vietnam for oil exploration in the SCS. These exploration fields are very much within the maritime space under the actual control of Vietnam.

But at the same time, China casually shrugs off the issue of India's 'sovereignty' over POK in the historical context. China is currently engaged in a variety of investment projects and infrastructural building activities in Gilgit-Baltistan, and these will be expanded under the CPEC project.
China further explains that the Sino-Pak understanding to implement CPEC through POK is based on a range of bilateral agreements and understandings, including their 1963 Border Agreement.

India has wider stakes in South China Sea as nearly 55% of India's trade with the Indo-Pacific region passes through these waters. New Delhi's interest is primarily to keep the region's trade routes safe and secure, thereby helping uphold regional stability and freedom of navigation.
Jammu and Kashmir issue
China resurrected the Jammu and Kashmir issue in the Security Council in August 2019 following the Indian decision to nullify Article 370, the special status given to the state of Jammu and Kashmir under the Indian Constitution. China said the Indian decision was "unacceptable." India rejected China's criticisms, saying the decision was an internal matter with no impact on its external borders. China has persisted.
Chinese Foreign Ministry stated that Beijing pays close attention to the Kashmir issue and that "any unilateral change to the status quo in the Kashmir region is illegal and invalid." The spokesperson added that the issue has to be "and peacefully resolved through dialogue and consultation between the parties concerned."

India responded harshly, stating that "The Chinese side has no locus stand whatsoever on this matter and is advised not to comment on the internal affairs of other nations.
Quad and Quad Plus
In recent years, India has been able to recalibrate its approach towards the Middle Kingdom even as the world order is changing.

The US-India partnership has evolved rapidly. Washington has helped thwart moves by China to internationalise the issue of Jammu and Kashmir, enabled India's entry into the international nuclear order and brought pressure on Pakistan to crack down on terrorism.

The Quad grouping, where Japan and Australia join the duo to keep the Indo-Pacific region inclusive and open to all, is working on providing alternatives to the BRI and is seeking a number of resilient arrangements, including on technology supply chains.

A Quad vaccine for all is on the anvil and other countries are looking to partner with the Quad on important global issues.

The 'La Pérouse' maritime exercises in the Bay of Bengal, with France joining the Quad members, and the Australia-France-India ministerial dialogue demonstrate that the idea and the ideals of 'Quad Plus' are gathering steam. The UK has floated the 'Democracy 10,' which includes the Quad countries, to tackle issues related to 5G and emerging technologies that may have a bearing on collective security. 
India's recalibration
A testament to India's recalibration is NATO Secretary General Jens Stoltenberg's pitch, at the Raisina Dialogue 2021, to broaden cooperation.

NATO views the rise of China as having huge security implications and assesses India as its partner. 

The 'connectivity partnership' between the EU and India seeks to finance projects in other nations, offering an alternative to China's BRI.
Effect of the Galwan Valley incident
There has also been an effort to reduce India's dependence on Chinese goods.

The Indian Railways, for instance, cancelled an INR 471 Crore deal with a Chinese firm. Similarly, state-owned telecom firm BSNL was instructed not to use gear from Chinese firm Huawei for a network upgrade.

India placed colour television sets imports under the restricted category, thus requiring a licence to import; and air conditioners under the prohibited category. The effects of these moves cannot be measured immediately.

The government has mandated all products to have the Country of Origin tag for products on the Government e-Marketplace in an effort to identify Chinese-origin goods.

In early July 2020, the Ministry of Power restricted power supply systems and networks import from China citing cyber and security threats, which constitute about 30% of the total imports from China. In the last 10 years, 12,540 MW out of 22,420 MW of the supercritical power plants were built using Chinese equipment.

India depends on China in many key industries from electrical machinery and appliances to pharmaceutical drug API.

Products such as fertilisers are 76% cheaper, electronic circuits 23%, and data processing units around 10% cheaper if made in China. 

India has banned key imports in the electrical machinery sector citing the availability of technology in India but what needs to be seen is how competitive it is, quality and cost-wise.
Is the India-China conflict intractable
Trade between the two countries may be setting new records and the two continue to interact at multilateral forums, including those associated with security such as the Shanghai Cooperation Organisation (SCO) and the Association of South-East Asian Nations (Asean) Regional Forum.
Economy and military power expanded, the South Asia-Indian Ocean Region (SA-IOR) emerged as second only to the western Pacific in its importance to China.
American trade with China is booming and its businesses chafing at the continuing restrictions on their activities in China.
Why China is worrying?
Unemployment in China is currently estimated to be at 10%, which is four percentage points more than what is admitted officially. Just as they did not expect the 'Wuhan Virus' would shrink the Chinese economy by 6.8 per cent in the first quarter of the year compared to the first quarter of 2019.
Their promotion and projection of Xi Jinping as a strong and resolute leader above criticism at home and beyond reproach abroad has not quite turned out the way it was supposed to be. The handling of the 'Wuhan Virus' outbreak, the making of a pandemic and the absence of concern, compassion or contrition on the part of the Xi regime has had the opposite effect.
From abusing and threatening Australia ( it was called a "dog of America" in a replay of Chairman Mao's description of Jawaharlal Nehru as a "running dog of American imperialism").

During the initial days of the pandemic, China faced the wrath of European and other countries due to the substandard test kits, PPEs and F95 masks it supplied. All this impacted China's reputation.

In the Post Covid Era China may stand to lose out as the world become more sceptical of the Chinese regime and demands accountability in the origins of the Corona Virus.

The world is coming together and an Anti China sentiments building especially in some western countries and South East Asain Nations.

The coming together of Quad and talks of formation of Quad Plus that rallies together an alliance of democracies and calls for new supply chains and restructuring of the world system grows louder a China may find itself against the wall.

There has been a strong demand from many countries and US allies on restricting bilateral trade with China. Huawei's 5G entry into the world is facing rough weather. The UK has announced revisiting its bilateral trade with and over reliance on China.

Human Rights Violations

Uighur Muslims for decades, under the false accusation by the Chinese government of terrorism and separatism, have suffered from abuses including persecution, forced detention, intense scrutiny, surveillance and even slavery.
Dealing China
As former Prime Minister Atal Bihari Vajpayee sagely observed, "You can change friends but not neighbours." That observation still holds true.

However, the twin pillars of India's China policy, cooperation and competition, need to be repositioned to competition and cooperation.

India should stick to doing those things and building a Great Wall of Democracies. India must not only embrace but incubate a rainbow coalition of democracies that believe in, and subscribe to, a rules-based world order.

In the coming days, as Hong Kong becomes a hot item on the global political agenda, India must actively seek to keep China and its feckless proxies out of leadership positions in global organisations.

There is no percentage in sticking to bogus 'anti-West' ideological positions of the past or seek South-South cooperation in a world where North and South, East and West are fluid geographies. 
In India's China policy, a mix of three approaches– First is internal balancing, strengthening themselves and developing capabilities in response to China's growing power.
The second is engagement, working with China to reach understandings, although this requires some give and take by both sides.
The third is external balancing, cooperating with others to gain more leverage and security vis-à-vis Beijing.

The recent border standoff between China and India at Ladakh confirms two political realities that must not be ignored.

First, India must not allow the intrusion of Chinese firms into its telecommunications network. If societies will be digital, China should not be permitted to encode India's public sphere.

New Delhi must not license Huawei or ZTE to provide equipment for its 5G rollout. And second, India must not allow any Chinese-origin firm into its critical infrastructure in much the same manner that it was kept away from certain industrial projects in the past.

For India's national interest, the choice is clear. There is no more room to accommodate China's economic affections while being scorched by the Dragon's fire.

National security is not a choice. It is a primary assumption and the first responsibility of statecraft. "A country that uses its military power to threaten other nations and its economic power to pervert free trade and steal technologies, will not think twice before using its technological influence to advance its strategic ambitions and lust for territory."

India needs to undertake a series of reforms like land and labour reforms to foster growth and investment. India also needs to scale up domestic production in key sectors including electrical machinery and pharmaceuticals to replace those imports. Without any of these key reforms, the Prime Minister's call for 'Aatma Nirbhar Bharat' will remain a mere slogan as it currently appears to be now and that is why we see a booming trade relationship between India and China after the Galwan Valley incident and will continue to see a significant dependence on China for the foreseeable future.
Conclusion
As a mature democracy, we should be able to articulate and defend our positions to our global stakeholders. It is what makes India different from China and a more reassuring global presence China has never hesitated to meddle in Indian domestic matters in the past.
India's past diffidence in challenging China on its 'internal' matters has not really paid New Delhi any significant dividends. India's Hong Kong move has been noticed the world over calls for India to play the Taiwan card grow louder.

A resurgent China, with its plan to establish regional hegemony in Asia even as it tries to split and dominate Europe, is Delhi's biggest security challenge. The Indo-Pacific will define the future of the Asian Century. India has been astute in ensuring that its partners and fellow stakeholders from the Atlantic order work closely with it to navigate the choppy waters of the Indo-Pacific.
Visit Abhiyan PEDIA (One of the Most Followed / Recommended) for UPSC Revisions: Click Here
---
IAS Abhiyan is now on Telegram: Click on the Below link to Join our Channels to stay Updated 
IAS Abhiyan Official: Click Here to Join

For UPSC Mains Value Edition (Facts, Quotes, Best Practices, Case Studies): Click Here to Join