Context :
Recently the National Crime Records Bureau (NCRB) was released the much delayed crime data for 2017.
About NCRB data on Crime
The NCRB has introduced more than three dozen new categories and sub-categories of crimes under various heads.

The report omits data on mob lynchings, khap killings, murder by influential people and killings for religious reasons.
Details of the Report
At least four categories where significant diversification of data can be seen are crimes against women and children, atrocities against Dalits, cases of corruption, and time taken by police and courts to take cases to their conclusion. For the first time, the NCRB has introduced categories of cyber crimes against women and children.

In the case of Dalits, the NCRB has for the first time published data on offences registered solely under the SC/ST (Prevention of Atrocities) Act with further categorisation of insult, land grab and social ostracism.

The NCRB has also recorded cases of disproportionate assets against public servants besides introducing new crime heads such as abetment, criminal intimidation, simple hurt, credit/debit card and online frauds, Internet crimes through online gaming and kidnapping for begging among others.

For the first time, the NCRB has not merely dwelt on pendency of cases with the police and courts but also the period of such pendency
Crimes against Women and Children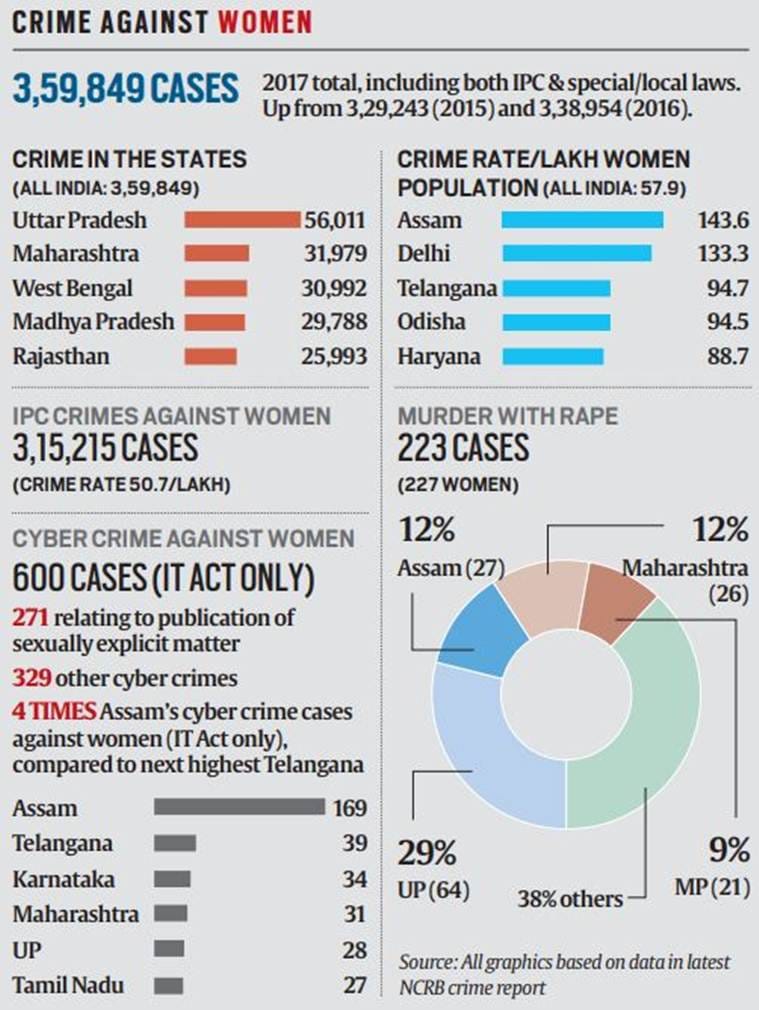 Pendency of Cases
While the NCRB has always collected data on pendency of cases with police and in courts, this was largely about the number of such cases. In the latest report, the NCRB has also recorded the period of pendency.

The data show police delayed chargesheets in 40% of cases. For IPC crimes, police are supposed to file a chargesheet within 90 days. But data show that in certain cases such as rioting, which includes communal riots, police delayed filing of chargesheets in 60% of the cases. It says there are more than 3 lakh cases pending investigations for more than one year.

The report says in more than 40% of cases with fast-track courts, these courts have taken more than three years to finish the trial. In fact, in as many as 3,384 cases committed to fast-track courts, the trial was finished in more than 10 years.

Of the 38,000-odd cases that fast-track courts completed in 2017, over 4,500 cases had been running for 5-10 years. In only around 11,500 cases was the trial completed within one year.

In courts as a whole, 2,71,779 cases were pending trial at the end of 2017.
Other data
Under the category of rioting, new subcategories have been added which include vigilante action, disputes over water, power and property and rioting during morchas.

Some other new data include spreading of fake news where 257 offences have been recorded. As many as 952 election-related offences were also recorded in 2017 apart from offences relating to religion (1,808) and Obscene Acts and Songs at Public Places (29,557).
About NCRB:
NCRB was set-up in 1986 to function as a repository of information on crime and criminals so as to assist the investigators in linking crime to the perpetrators based on the recommendations of the Tandon Committee to the National Police Commission (1977-1981) and the MHA's Task force (1985).

Subsequently, NCRB was entrusted with the responsibility for monitoring, coordinating and implementing the Crime and Criminal Tracking Network & Systems (CCTNS) project in the year 2009. The project connects 15000+ police stations and 6000 higher offices of police in the country.

NCRB launched National Digital Police Portal. It allows search for a criminal / suspect on the CCTNS database apart from providing various services to citizens like filing of complaints online and seeking antecedent verification of tenants, domestic helps, drivers etc.

The Bureau has also been entrusted to maintain National Database of Sexual Offenders (NDSO) and has also been designated as the Central Nodal Agency to manage technical and operational functions of the 'Online Cyber-Crime Reporting Portal' through which any citizen can lodge a complaint as an evidence of crime related to child pornography, rape/gang rape.

NCRB also compiles and publishes National Crime Statistics i.e. Crime in India, Accidental Deaths & Suicides and also Prison Statistics.

NCRB has also floated various IT based Public Services like Vahan Samanvay (online matching for Stolen/Recovered vehicles) and Talash (matching of missing persons and dead bodies).

The Central Finger Print Bureau under NCRB is a national repository of all fingerprints in the country and has more than one million ten-digit finger prints database of criminals both convicted and arrested and provides for search facility on Fingerprint Analysis and Criminal Tracing System (FACTS).

NCRB also assists various States in capacity building in the area of Information Technology, CCTNS, Finger Prints, Network security and Digital Forensics
Source: TH & IE