SBI, BoB, IOB have raised MCLR
Context
Following the 25 basis points (bps) hike in repo rate by the Reserve Bank of India, multiple lenders have raised their marginal cost of fund-based lending rates (MCLR) by up to 15 basis points, which will result in higher equated monthly instalment (EMI) for borrowers.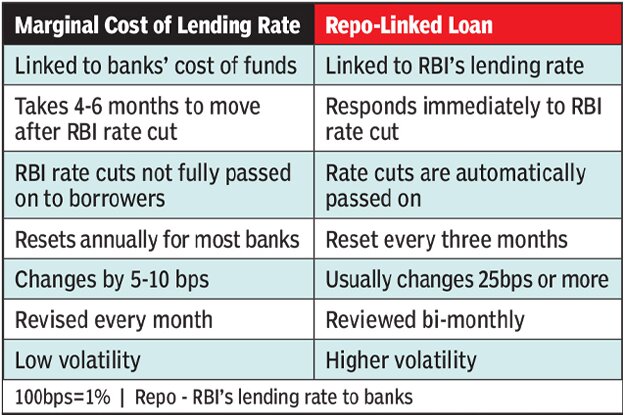 What is the MCLR?
Introduced on April 1, 2016, MCLR is the minimum interest rate below which banks cannot lend.
Banks calculate all operating costs as a percentage of marginal cost of funds for computing the rate.
Under the MCLR regime, banks decide on the interest rate at which they will offer to borrowers on the basis of the marginal cost at which they get funds, through funds and by borrowing from the RBI.
Any change in the repo rate — the rate at which the RBI lends money to banks to meet their short-term funding needs — impacts the interest rate for borrowers.
Banks review their MCLR of different maturities every month on a pre-announced date with approval from their boards.
In order to further improve the transmission of repo rate to banks' lending and deposit rates, the RBI in October 2019 introduced the external benchmark linked lending rate (EBLR) system.
Banks now offer lending rates which are linked to the RBI's repo rate or yields on treasury bills.
Any change in repo rate immediately gets reflected in the banks' lending rate.
There are some segments of borrowers, who were issued loans before October 2019, continuing with the old MCLR regime.
Source: IE
---
Visit Abhiyan PEDIA (One of the Most Followed / Recommended) for UPSC Revisions: Click Here
---
IAS Abhiyan is now on Telegram: Click on the Below link to Join our Channels to stay Updated 
IAS Abhiyan Official: Click Here to Join

For UPSC Mains Value Edition (Facts, Quotes, Best Practices, Case Studies): Click Here to Join