Context
In what may be termed as an uncommon ocean phenomenon, the prevailing La Ninã conditions over the equatorial Pacific Ocean have entered the third consecutive year.

The current La Ninã phase has been prevailing since September 2020.

In June this year, the World Meteorological Organization had termed the persisting La Niña conditions as 'stubborn'.
El Niño and La Ninã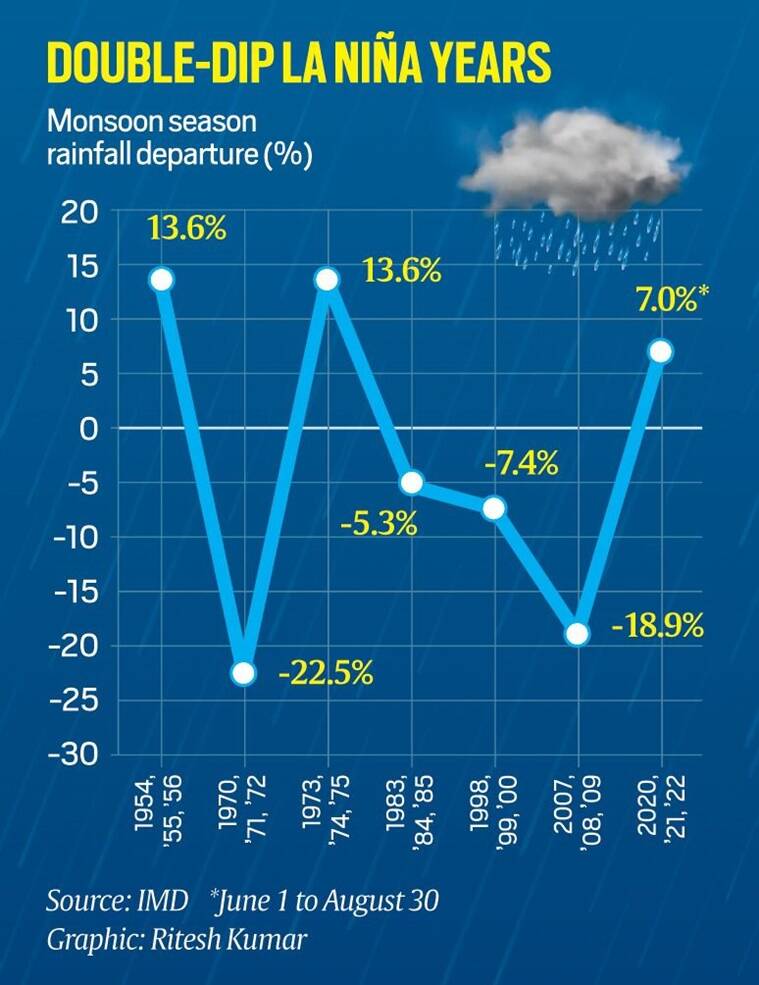 The El Niño Southern Oscillation (ENSO) is one of the key climate drivers for which the sea surface temperatures (SST) along the central and equatorial Pacific Ocean are constantly observed.
It is important, as ENSO conditions can alter both the temperatures and rainfall globally, due to its strong interference on the global atmospheric circulations.
It has three phases El Niño, neutral and La Ninã.

El Niño is when the SSTs along the central and equatorial Pacific Ocean are abnormally warmer than normal.
La Niña, on the other hand, is when cooler SSTs prevail over these regions.
How does La Niña impact India's monsoon?
In the Indian context, El Niño years have seen below normal monsoon rainfall and caused extreme heat, even though it may not be the single factor or have direct relations. In 2014, India received 12 per cent deficient rainfall during June to September.
La Niña years, on the other hand, are known to favour the Indian summer monsoon.
The continuing La Niña is a good sign for the Indian monsoon.
The monsoon rainfall, so far, has been good except Uttar Pradesh, Bihar and neighbouring areas.
La Niña conditions favour cyclone formation 
La Niña years are infamous for frequent and intense hurricanes and cyclones in the Atlantic Ocean and the Bay of Bengal.
Over the North Indian Ocean too – covering the Arabian Sea and the Indian Ocean – chances of more cyclones are likely due to multiple aiding factors, including high relative moisture and relative low wind shear over the Bay of Bengal.
"La Niña favours a higher rate of cyclone formation in the Bay of Bengal.
Earlier this month, NOAA warned of higher than usual hurricanes over the Atlantic Ocean due to favourable atmospheric and ocean conditions. While August passed by without any hurricanes, NOAA does not rule out major hurricanes as the peak season of September and October approaches.
Over the North Indian Ocean, the post-monsoon months October to December are active months for cyclone development with November being the peak for cyclonic activity.
Source: IE
---
Visit Abhiyan PEDIA (One of the Most Followed / Recommended) for UPSC Revisions: Click Here
---
IAS Abhiyan is now on Telegram: Click on the Below link to Join our Channels to stay Updated 
IAS Abhiyan Official: Click Here to Join

For UPSC Mains Value Edition (Facts, Quotes, Best Practices, Case Studies): Click Here to Join