TIGER CORRIDORS IN INDIA UPSC
The National Tiger Conservation Authority in collaboration with the Wildlife Institute of India has mapped out 32 major tiger corridors in India.

These are operationalized through a Tiger Conservation Plan, mandated under section 38V of the Wildlife (Protection) Act, 1972.
A tiger corridor is a stretch of land linking tiger habitats, allowing movement of tigers, prey and other wildlife. Without corridors tiger habitat can become fragmented and tiger populations isolated leaving the tigers vulnerable to localized extinction. Corridors are used by other wildlife also.
The corridors across states are important as big cats travel long distances. A tiger travelled 1,300 km over two states (Maharashtra and Telangana), six districts and four wildlife sanctuaries in about 150 days exploring a new area to set up its territory.
Areas linking one tiger reserve or protected area with another tiger reserve or protected area are not diverted for ecologically unsustainable uses, except in public interest and with approval of the National Board for Wildlife and on advice of the National Tiger Conservation Authority as per Section 38 O (1) (g) of the Wildlife (Protection) Act, 1972.
Further, Section 38 V (3) (b) of the said Act, provides for the tiger conservation plan to ensure ecologically compatible land uses in areas linking one protected areas or tiger reserve with another for addressing the livelihood concerns of local people, so as to provide dispersal habitats and corridor for spill over population of wild animal from the designated core areas of tiger reserves or from tiger breeding habitats with other protected areas.
What is need of conservation of Tiger corridors?
It is vital for the long-term survival and viability of tigers

Corridors are under threat from development projects. 

The greatest threat here is the expansion of road and railway networks which cut through the corridor leading to highway killings of tiger, Man animal conflicts.

All India tiger estimation 2018 results released in July that showed there were 2,967 big cats in the country, and large population ventures outside protected areas, this needs mapping of tiger corridors for their enhanced conservation.

Need to sensitize villagers along these corridors about conservation of wildlife.
Where are all these corridors located?
The list of tiger corridors includes three across Uttarakhand, Uttar Pradesh bordering Nepal in Shivalik Hills and Gangetic Plains.

As many as 11 of them are across Madhya Pradesh, Rajasthan, Maharashtra, Chhattisgarh, Jharkhand, Odisha, and Andhra Pradesh. Eight of the corridors are located across Maharashtra, Goa, Karnataka, Kerala, Tamil Nadu, and the remaining 10 are in Assam, Arunachal Pradesh and West Bengal.
LIST OF TIGER CORRIDORS IN INDIA
The list of macro/landscape level tiger corridors in india are as under:
Landscape
Corridor
States/ Country
Shivalik Hills & Gangetic Plains

(i) Rajaji-Corbett

Uttarakhand

(ii) Corbett-Dudhwa

Uttarakhand, Uttar Pradesh, Nepal

(iii) Dudhwa-Kishanpur Katerniaghat

Uttar Pradesh, Nepal

Central India & Eastern Ghats

(i) Ranthambhore-Kuno-Madhav

Madhya Pradesh, Rajasthan

(ii) Bandhavgarh-Achanakmar

Madhya Pradesh, Chhattisgarh

(iii) Bandhavgarh-Sanjay Dubri-Guru Ghasidas

Madhya Pradesh

(iv) Guru Ghasidas-Palamau-Law along

Chhattisgarh & Jharkhand

(v) Kanha-Achanakmar

Madhya Pradesh, Chhattisgarh

(vi) Kanha-Pench

Madhya Pradesh, Maharashtra

(vii) Pench-Satpura-Melghat

Madhya Pradesh, Maharashtra

(viii) Kanha-Navegaon Nagzira-Tadoba-Indravati

Madhya Pradesh, Maharashtra, Chhattisgarh, Andhra Pradesh

(ix) Indravati-Udanti Sitanadi-Sunabeda

Chhattisgarh, Odisha

(x) Similipal-Satkosia

Odisha

(xi) Nagarjunasagar-Sri Venkateshwara National Park

Andhra Pradesh

Western Ghats

(i) Sahyadri-Radhanagari-Goa

Maharashtra, Goa

(ii) Dandeli Anshi-Shravathi Valley

Karnataka

(iii) Kudremukh-Bhadra

Karnataka

(iv) Nagarahole-Pusphagiri-Talakavery

Karnataka

(v) Nagarahole-Bandipur-Mudumalai-Wayanad

Karnataka, Kerala, Tamil Nadu

(vi) Nagarahole-Mudumalai-Wayanad

Karnataka, Kerala, Tamil Nadu

(vii) Parambikulam-Eranikulam-Indira Gandhi

Kerala, Tamil Nadu

(viii) Kalakad Mundanthurai-Periyar

Kerala, Tamil Nadu

North East

(i) Kaziranga-Itanagar WLS

Assam, Arunachal Pradesh

(ii) Kaziranga-Karbi Anglong

Assam

(iii) Kaziranga-Nameri

Assam

(iv) Kaziranga-Orang

Assam

(v) Kaziranga-Papum Pane

Assam

(vi) Manas-Buxa

Assam, West Bengal, Bhutan

(vii) Pakke-Nameri-Sonai Rupai-Manas

Arunachal Pradesh, Assam

(viii) Dibru Saikhowa-D'Ering-Mehaong

Assam, Arunachal Pradesh

(ix) Kamlang-Kane-Tale Valley

Arunachal Pradesh

(x) Buxa-Jaldapara

West Bengal
---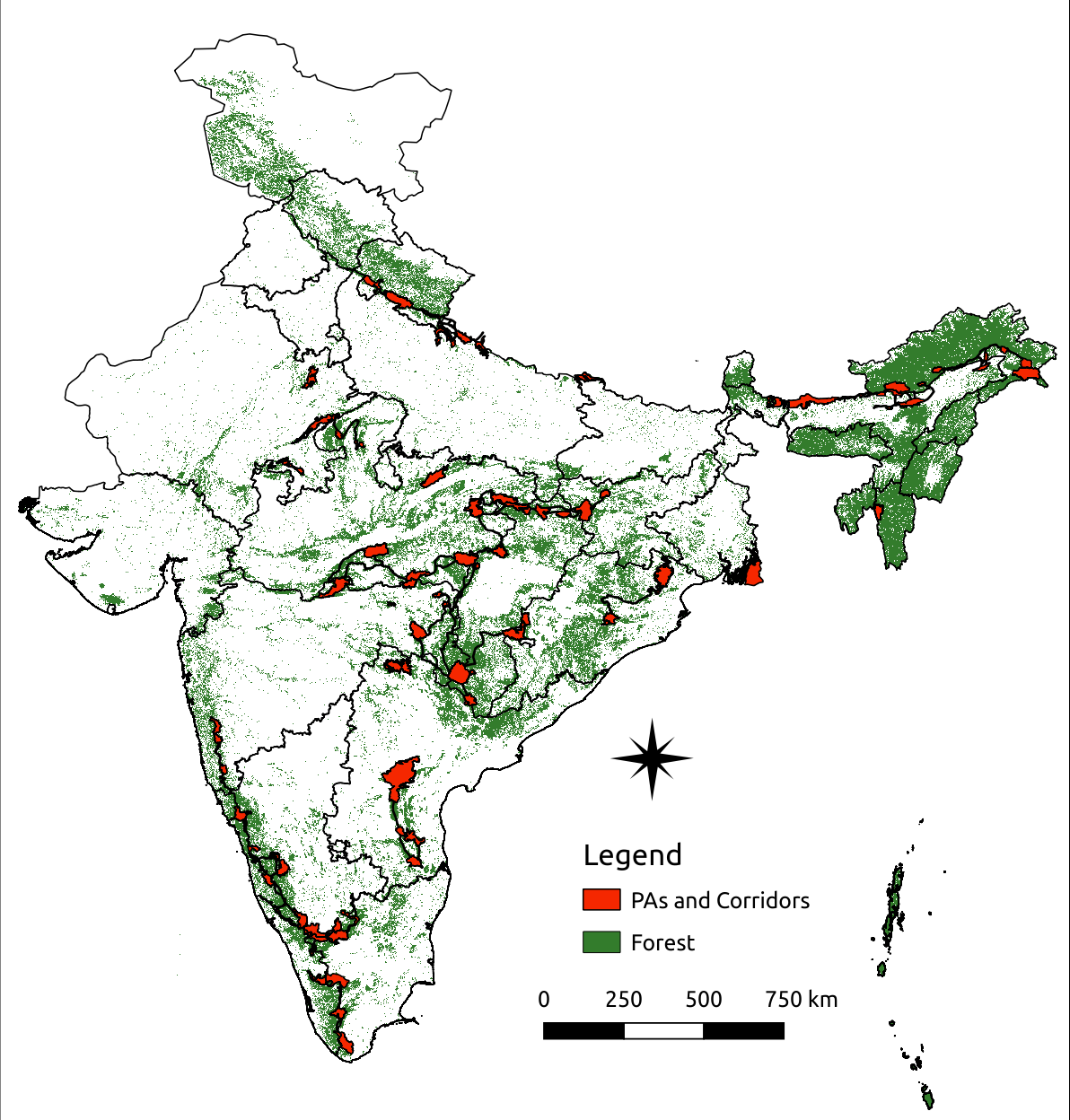 ---
Tiger Reserves in India UPSC : Click Here
For Prelims Revision and Other Topics: Click Here 
To Download our Notes: Click here
For Important Government Portals: Click here