Context
After the Centre's nod for creation of the Ramgarh Vishdhari sanctuary, the Rajasthan government is hoping to develop a tiger corridors connecting three tiger reserves passing through districts including Sawai Madhopur, Kota and Bundi.
Key Details about Ramgarh Tiger Reserve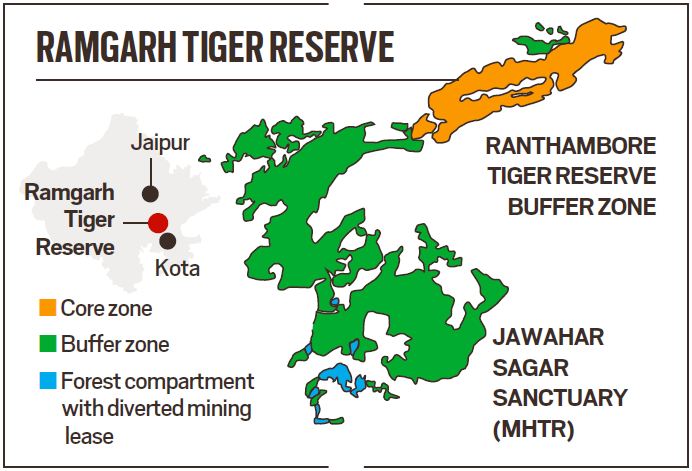 The Ramgarh Vishdhari Sanctuary has been approved as 52nd Tiger Reserves of India and 4th Tiger Reserve of Rajasthan.

According to a 2018 tiger census, there are 102 tigers in three reserves — Ranthambore Tiger Reserve in Sawai Madhopur, Sariska Tiger Reserve in Alwar, and Mukundra Hills Tiger Reserve in Kota — in the state.

The Ramgarh Tiger Reserve will link Ranthambore Tiger Reserve in the Northeast & Mukundra Hills Tiger Reserve on the southern side.
Tigers have always frequented the area demarked for the Ramgarh Vishdhari tiger sanctuary and even now, tigers regularly pass through this area from the direction of Ranthambore.
It is adjoining the buffer area of the Ranthambore Tiger Reserve. This newly proposed tiger reserve in Bundi district will connect the Ranthambore Tiger Reserve in Sawai Madhopur district with the Mukundra Hills Tiger Reserve in Kota district.
While the Ranthambore Tiger Reserve at present has a population of more than 65 tigers, the Mukundra reserve is presently left with just one big cat, after a series of deaths inside the reserve.
To strengthen the prey base, the state has already approved shifting of chital (spotted deer) from Ghana Bird Sanctuary (Karauli) to Mukundra Hills Tiger Reserve, Keoladeo National Park, and Ramgarh Vishdhari.
Tiger corridors in India
The National Tiger Conservation Authority in collaboration with the Wildlife Institute of India has mapped out 32 major corridors across the country.
These are operationalized through a Tiger Conservation Plan, mandated under section 38V of the Wildlife (Protection) Act, 1972.
The list of macro/landscape level tiger corridors are as under:
Landscape
Corridor
States/ Country
Shivalik Hills & Gangetic Plains
(i) Rajaji-Corbett
Uttarakhand
(ii) Corbett-Dudhwa
Uttarakhand, Uttar Pradesh, Nepal
(iii) Dudhwa-Kishanpur Katerniaghat
Uttar Pradesh, Nepal
Central India & Eastern Ghats
(i) Ranthambhore-Kuno-Madhav
Madhya Pradesh, Rajasthan
(ii) Bandhavgarh-Achanakmar
Madhya Pradesh, Chhattisgarh
(iii) Bandhavgarh-Sanjay Dubri-Guru Ghasidas
Madhya Pradesh
(iv) Guru Ghasidas-Palamau-Law along
Chhattisgarh & Jharkhand
(v) Kanha-Achanakmar
Madhya Pradesh, Chhattisgarh
(vi) Kanha-Pench
Madhya Pradesh, Maharashtra
(vii) Pench-Satpura-Melghat
Madhya Pradesh, Maharashtra
(viii) Kanha-Navegaon Nagzira-Tadoba-Indravati
Madhya Pradesh, Maharashtra, Chhattisgarh, Andhra Pradesh
(ix) Indravati-Udanti Sitanadi-Sunabeda
Chhattisgarh, Odisha
(x) Similipal-Satkosia
Odisha
(xi) Nagarjunasagar-Sri Venkateshwara National Park
Andhra Pradesh
Western Ghats
(i) Sahyadri-Radhanagari-Goa
Maharashtra, Goa
(ii) Dandeli Anshi-Shravathi Valley
Karnataka
(iii) Kudremukh-Bhadra
Karnataka
(iv) Nagarahole-Pusphagiri-Talakavery
Karnataka
(v) Nagarahole-Bandipur-Mudumalai-Wayanad
Karnataka, Kerala, Tamil Nadu
(vi) Nagarahole-Mudumalai-Wayanad
Karnataka, Kerala, Tamil Nadu
(vii) Parambikulam-Eranikulam-Indira Gandhi
Kerala, Tamil Nadu
(viii) Kalakad Mundanthurai-Periyar
Kerala, Tamil Nadu
North East
(i) Kaziranga-Itanagar WLS
Assam, Arunachal Pradesh
(ii) Kaziranga-Karbi Anglong
Assam
(iii) Kaziranga-Nameri
Assam
(iv) Kaziranga-Orang
Assam
(v) Kaziranga-Papum Pane
Assam
(vi) Manas-Buxa
Assam, West Bengal, Bhutan
(vii) Pakke-Nameri-Sonai Rupai-Manas
Arunachal Pradesh, Assam
(viii) Dibru Saikhowa-D'Ering-Mehaong
Assam, Arunachal Pradesh
(ix) Kamlang-Kane-Tale Valley
Arunachal Pradesh
(x) Buxa-Jaldapara
West Bengal
---
Tiger Reserves in India : Click Here