Context
Deep Sea mining operations could present serious risks to ocean ecosystems, with disturbance on any scale being long-lasting and irreversible.

Commercial-scale operations of deep seabed mining in 2023 may come at the expense of cetaceans like whales, dolphins and porpoises, a study has found.

Deep sea mining is the process of retrieving mineral deposits from the deep seabed the ocean below 200 metres and covers two-thirds of the total seafloor.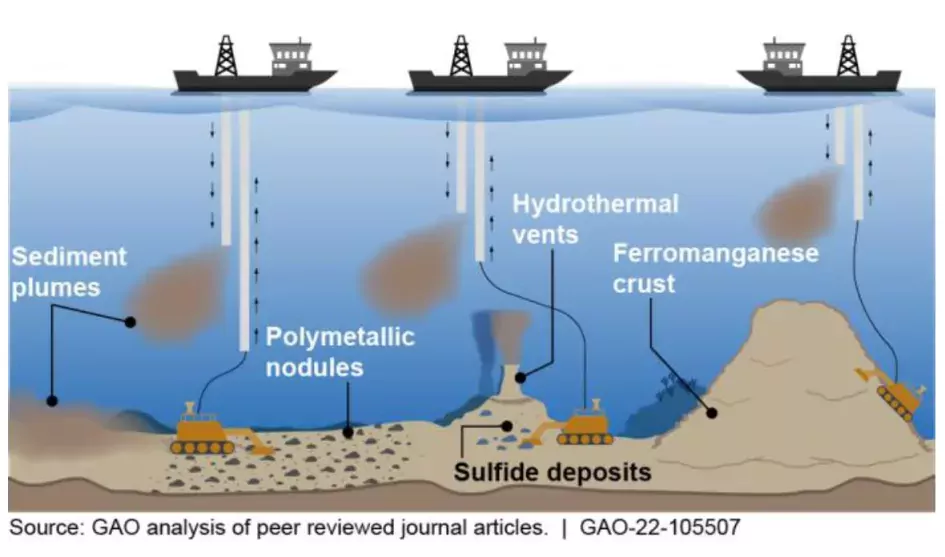 Key areas of concerns
Potential to damage the oceans in ways we do not fully understand and at the expense of species that have been the focus of conservation efforts for many years.

Many cetaceans, like blue whales and several dolphin species, are endangered. 

Commercial-scale mining is expected to operate 24 hours a day, causing noise pollution.

The mining noise can overlap with the frequencies at which cetaceans communicate, which can cause auditory masking and behaviour change in marine mammals

Settlement of sediment plumes generated by mining vehicles could smother the species at the bottom of the ocean, or benthic species, in the vicinity.

Sediment discharged from processing vessels can also increase turbidity in the water column.

There is growing interest in the mineral deposits of the seabed.

This is mainly due to depleting terrestrial deposits of metals such as copper, nickel, aluminium, manganese, zinc, lithium and cobalt.

Demand for these metals is also increasing to produce smartphones, wind turbines, solar panels and batteries.
Polymetallic nodules 
A potential mineral resource for copper, nickel, cobalt, iron, manganese, and rare earth elements.

These nodules are found in various deep ocean regions, including the deep Pacific and Indian Oceans.

The nodules are approximately potato-sized and sit on the sediment surface across abyssal plains in the Clarion-Clipperton Zone (CCZ), a region spanning 5,000 kilometres (3,100 miles) across the central Pacific Ocean at depths of 4,000 – 5,500 metres. 

The CCZ is a habitat for cetaceans, including baleen (mysticetes) and toothed whales (odontocetes). Up to 30 cetacean populations, including globally endangered species like blue whales, can be found in the CCZ, where 17 exploratory deep-sea mining licenses have been granted.
UNCLOS
The International Seabed Authority (ISA), "mandated under the UN Convention on the Law of the Sea to organise, regulate and control all mineral-related activities in the international seabed area for the benefit of mankind as a whole" 
What can be done?
Under the United Nations Convention on the Law of the Sea (UNCLOS), the Area and its mineral resources are the common heritage of humankind.

This means they must be managed on behalf of and in the interests of all humanity including through: the sharing of economic benefits; support for marine scientific research; and the effective protection of the marine environment.

At the IUCN World Conservation Congress in Marseille (September 2021), IUCN Members adopted Resolution 122 to protect deep-ocean ecosystems and biodiversity through a moratorium on deep-sea mining unless and until a number of conditions are met.

These include:

The risks of mining are comprehensively understood and effective protection can be ensured;

Rigorous and transparent impact assessments are conducted based on comprehensive baseline studies;

The Precautionary Principle and the 'Polluter Pays Principle' are implemented;

Policies incorporating circular economic principles to reuse and recycle minerals have been developed and implemented;

The public are consulted throughout decision-making;

The governance of deep-sea mining is transparent, accountable, inclusive, effective and environmentally responsible.
Conclusion
Reliance on metals from mining can be reduced by redesigning, reusing and recycling. In addition, research should focus on creating more sustainable alternatives to their use because deep-sea mining could irreparably harm marine ecosystems, and limit the many benefits the deep sea provides to humanity.
Back to Basics
Deep Ocean Mission (DOM)
The Ministry of Earth Sciences has launched the Deep Ocean Mission (DOM).

The Deep Ocean Mission is a multi-ministerial, multi-disciplinary programme with emphasis on development of deep-sea technology that includes development of manned Submersible rated for 6000 metre water depth along with technologies for deep sea mining, exploration of deep-sea mineral resources and marine biodiversity, acquisition of a research vessel for ocean exploration, development of ocean climate change advisory services, deep sea observations, and capacity building in Marine Biology.

The activities of Deep Ocean Mission will help to develop the potential of the blue economy of the Indian Ocean.

The Deep Ocean Mission consists of the following six major components:

Development of Technologies for Deep Sea Mining, and Manned Submersible

Development of Ocean Climate Change Advisory Services

Technological innovations for exploration and conservation of deep-sea biodiversity

Deep Ocean Survey and Exploration

Energy and freshwater from the Ocean

Advanced Marine Station for Ocean Biology

This mission is also directed towards capacity development in Marine Biology, which will provide job opportunities in Indian industries. In addition, design, development and fabrication of specialised equipment, ships and setting up of required infrastructure are expected to spur the growth of the Indian industry, especially the MSME and Start-ups.
Need of the mission
Oceans, which cover 70 per cent of the globe, remain a key part of our life.

About 95 percent of Deep Ocean remains unexplored.

For India, with its three sides surrounded by the oceans and around 30 per cent of the country's population living in coastal areas, ocean is a major economic factor supporting fisheries and aquaculture, tourism, livelihoods and blue trade.

Oceans are also storehouse of food, energy, minerals, medicines, modulator of weather and climate and underpin life on Earth.

Considering importance of the oceans on sustainability, the United Nations (UN) has declared the decade, 2021-2030 as the Decade of Ocean Science for Sustainable Development.

India has a unique maritime position. Its 7517 km long coastline is home to nine coastal states and 1382 islands.

The Government of India's Vision of New India by 2030 enunciated in February 2019 highlighted the Blue Economy as one of the ten core dimensions of growth.
---
Visit Abhiyan PEDIA (One of the Most Followed / Recommended) for UPSC Revisions: Click Here
---
IAS Abhiyan is now on Telegram: Click on the Below link to Join our Channels to stay Updated 
IAS Abhiyan Official: Click Here to Join

For UPSC Mains Value Edition (Facts, Quotes, Best Practices, Case Studies): Click Here to Join